Glitter sunscreen makes waves: Dermatologists discuss the sparkly new trend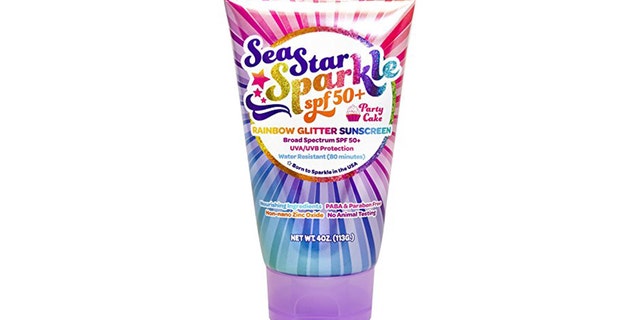 NEWYou can now listen to Fox News articles!
It may be time to shine: a Florida brand's glitter-infused sunblock has been making headlines this week.
The goods come from a brand called Sunshine & Glitter, Refinery29 reported, and can be purchased on the company's website.
"The glitter sunscreen is more of a marketing campaign or a gimmick," board-certified dermatologist Dr. Marie Jhin of Premier Dermatology in San Carlos, Calif., told Fox News on Tuesday, later explaining "what's going to protect you is the sunscreen."
Though, she noted, glitter may prompt people to "want to use the sunscreen more, and that's great."
When it comes to the effectiveness of sunscreen, board-certified dermatologist Dr. Anne Chapas of Union Square Laser Dermatology in New York City told Fox News glitter won't make a difference.
"I don't see any reason why the presence of glitter would effect the UV ray absorption/reflection ingredients in this product," she said in an email.
Sunshine & Glitter posted a clip on Instagram Tuesday of its "Mango-Tango"-scented version of its Sea Star Sparkle SPF 50+ sunblock -- showing gold flecks on skin.
"Party Cake" and "Very Berry"-scented types -- which have rainbow and pink glitter, respectively -- are available online, too.
The web pages for the different versions each say the sunblock "is nourishing and loaded with antioxidants, provides broad spectrum UVA/UVB protection and 80 minutes of water resistance. PABA and Paraben free, non irritant glitter and smells delicious."
Sunshine & Glitter also sells other sunblocks, including its "Beach Gypsy" sunscreen. That item, it claims, offers "SPF 30+ broad spectrum UVA/UVB protection" and doesn't have PABAs or parabens, either.
As for application? Jhin gave the example of colored sunblock, and how areas not colored-in reveal you missed spots. Glitter sunblock could work similarly, she explained.
Customers may still want to use caution when applying, though.
"Just because the glitter might still be present, that doesn't mean that the sunscreen is still working," Chapas said. "Sunscreen needs to be reapplied every 80 minutes and after swimming or sweating activities."
Jhin suggested testing a small amount of glitter sunscreen on your body for two to three days to check for any potential reactions before using it elsewhere.
But Chapas advised anyone with sensitive skin to avoid using products like this altogether.
"People with sensitivities to dyes or glue/tape/adhesive should not use this sunscreen because of possible allergic reactions to its ingredients," she said.
"All of our products are made with love and are a pure expression of happiness," Meredith Madsen, the president of Sunshine & Glitter, told Fox News via email. "Sun protection is so important and we love to make it fun, because everyday should be a celebration."