Gisele says Tom Brady suffered concussion last year, multiple others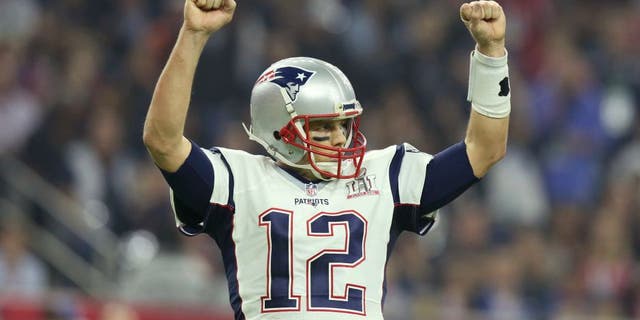 Gisele Bundchen revealed on Wednesday that her husband, five-time Super Bowl champion Tom Brady, suffered a concussion last year, stopping short of inferring that he suffers one each season.
"I just have to say, as a wife, I'm a little bit …" Bundchen, once one of the highest-paid supermodels in the fashion industry, trailed off during an interview with CBS This Morning. "As you know," she continued, "[the NFL] is not the most, let's say, unaggressive sport … he had a concussion last year."
NFL'S DREW BREES HITS HARD ON DANGERS OF HEAT STROKE
"He has concussions pretty much every … I mean, we don't talk about it," she said. "But he has concussions and I don't really think it's a healthy thing for your body to go through, you know, that kind of aggression all the time — that cannot be healthy for you."
Bundchen's answer came after a prompt from host Charlie Rose who asked if she was trying to get her future Hall of Fame husband to retire from the game.
"I'm planning on having him be healthy and do a lot of fun things when we're, like, 100 I hope," Bundchen told Rose.
Brady did not miss any games due to an injury during the 2016 season and was not listed on the team's injury report for concussion or head injury at any point during either the 2016 calendar year or 2016 season. The team did report leg, thigh and angle injuries for him during that span. He sat out the first four games of the season while serving a suspension over the "Deflategate" scandal.
TEEN DIES AFTER BEING PULLED FROM FOOTBALL CONDITIONING
Bundchen's interview was on the same day that two more retired football stars pledged their brains to research. Two-time Super Bowl champion Leonard Marshall and three-time Pro Bowl selection Matt Hasselbeck said they will donate their brains to the Concussion Legacy Foundation for research into chronic traumatic encephalopathy (CTE).
The announcements were made as part of the second annual Brain Trust conference, which is hosted by the Veterans Administration. Marshall, 55, said he already has short-term memory loss and erratic behavior.
The two join more than 1,800 former athletes and military veterans who have pledged to donate their brains for CTE research. The progressive degenerative brain disease has been linked to repeated head trauma.
The Patriots declined a request from The Associated Press to comment on the report.
The Associated Press contributed to this report.