Georgia boy who had open heart surgery 'thriving' with pacemaker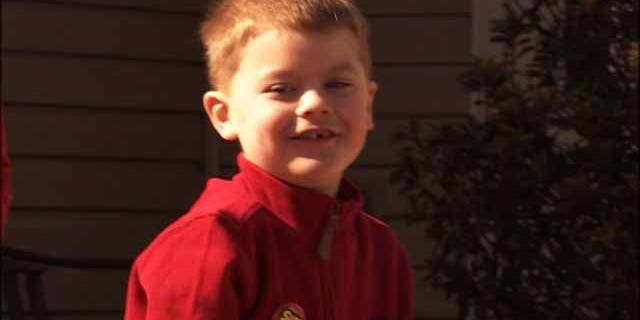 NEWYou can now listen to Fox News articles!
Brayden Simpson is a superhero of sorts in his Atlanta-area hometown of Villa Rica, Ga.
The 6-year-old who calls himself "Iron Man" uses a pacemaker, a necessity due to the congenital heart defect (CHD) that he developed shortly after birth, MyFoxAtlanta.com reported.
"He's not ashamed of his condition," his mother, Rebekah Simpson, told the news station. "He will walk up to any child in a play area and say, 'Hi, I'm Brayden, and I have a pacemaker.'"
Pediatricians diagnosed Brayden with a CHD after they heard a murmur and detected a moderate hole in his heart. They also found a pulmonary, aortic stenosis, which indicates a narrowing in the pulmonary artery that makes it difficult for blood to reach the lungs and pick up oxygen. That complication makes it tough for the heart and body to function properly, according to the Cleveland Clinic.
A CHD indicates an abnormally structured heart with a possible combination of large vessels. According to the Centers for Disease Control and Prevention (CDC), CHDs affect nearly 1 percent, or about 40,000, births per year in the United States. About 25 percent of CHD cases are critical and require surgery within the first year of a baby's life.
Brayden's doctors suspected the hole in his heart would close, but by the time the he turned 2, he was still struggling to breathe.
"He would get up in the morning out of his toddler bed, and he would get very winded," Rebekah Simpson told MyFoxAtlanta.com. "Not even one second out of his bed, [and] he was literally gasping for air."
Upon a second evaluation that year, doctors found that a muscle in Brayden's heart had become enlarged and thickened to the point that it was suffocating him. Doctors told Rebekah that the condition was blocking blood flow to Brayden's pulmonary valve.
Brayden went in for open heart surgery on Sept. 24, 2010 at Children's Healthcare of Atlanta at Egleston.
James Simpson, Brayden's father, told MyFoxAtlanta.com that faith helped his family endure the operation.
"We'd prayed for a son, and God gave us a son. Is he taking him back?'" James recalled thinking around the time of Brayden's surgery.
The procedure was successful, but Brayden's heartbeat didn't return as doctors had hoped it would. That's when the pacemaker became part of his being.
"He calls it [the pacemaker] his shark bite," James said. He noted that on one occasion, a woman thought his son was speaking seriously. "She was like, 'Your son got bit by a shark!' And I was like, 'No. That's what he calls it.'"
Although Brayden will need the device to control his heart rhythm for the rest of his life, his parents said Brayden doesn't mind it. The only limitations he has is not being able to play high-contact sports such as football. But Rebekah and James told MyFoxAtlanta.com that he's still as energetic as any boy his age.
"It's funny: We actually went to a specialist and said, 'Can you turn it down a little bit?'" James said. "And they said, 'No, that's not how it works.' And we were like, 'We know that, but can you turn it down, please?'"
Click for more from My Fox Atlanta.