Georgia boy receives 'Star Wars' themed prosthetic arm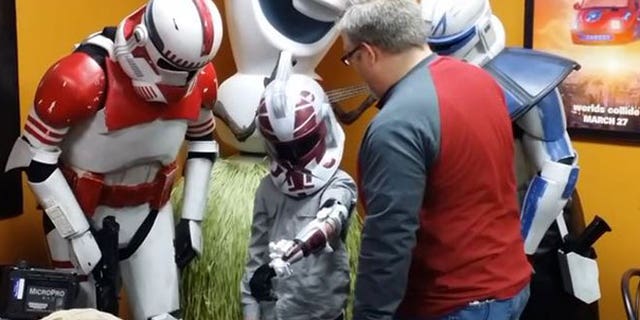 A 7-year-old "Star Wars" fan is now sporting an Imperial Stormtroopers-themed prosthetic arm, thanks to an international movement that aims to provide greater access to prosthetics, The Augusta Chronicle reported.
According to the report, Liam Porter, of Augusta, Ga., was born without part of his left arm. The organization e-NABLE put Porter and his family in touch with John Peterson, who created the themed prosthetic using a 3-D printer. E-Nable is a hand and arm printer that is striving to connect people in need of prosthetics with advanced technology.
As Porter was leaving a local Regal Cinemas, two Clone troopers escorted him to a private room, where "Star Wars" characters and his brand-new arm were waiting for him.
"Oh it was wonderful," Porter's mother, Ryan, told The Augusta Chronicle. "I wasn't sure how he would react. I didn't know if he would be very excited, or very quiet and overwhelmed. He was quiet, which is a little funny for him because he always talks."
The video shows Porter grinning and trying on the arm for the first time. He uses the hand to clutch a plastic cup, while the "Star Wars" characters, part of the Georgia garrison of the 501st Legion, applaud. They then present him with a "Friend of the Garrison" certificate, and Porter later puts on a troopers helmet.
"May the force be with you," they tell him.
As of Thursday afternoon, the video had over 209,000 views on YouTube.