Georgia boy, 2, blocked from getting father's kidney, is rushed to hospital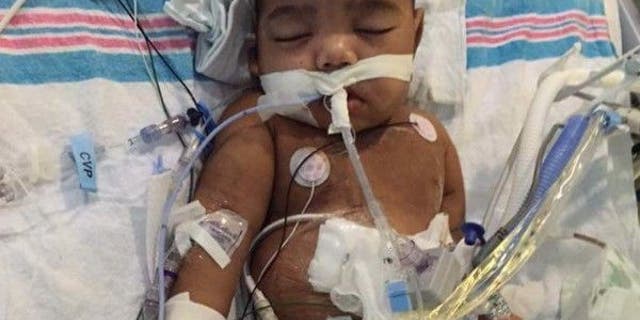 NEWYou can now listen to Fox News articles!
A 2-year-old Georgia boy who was unable to receive his father's kidney for a transplant -- apparently because the man had violated his probation -- was rushed to an emergency room Sunday morning after suffering an abdominal infection.
Anthony Dickerson Jr., who was born without kidneys, made headlines earlier this month when it was reported the toddler couldn't receive a kidney from his father, Anthony Dickerson, 26, over the probation violation in September.
"Today has not been a good day for baby AJ or the family. But they remain hopeful, strong in spirit even as his body weakens," Attorney Mawuli Davis told WBIR.
TODDLER'S KIDNEY TRANSPLANT STALLED AFTER DONOR DAD VIOLATES PROBATION, FAMILY CLAIMS
Emory Hospital in Atlanta reportedly worked on behalf of Dickerson, who was in jail, to request he be escorted to the hospital for blood work and pre-operative testing.
Anthony's mother, Carmellia Burgess, said that days after testing, she received a letter from the hospital saying her son's surgery would be delayed until Dickerson complied with his parole officer after three months.
"They're making this about his dad," Burgess said. "It's not about dad. It's about our son."
A petition created by Burgess requesting that Emory Hospital "allow Anthony to donate his kidney to his son" has more than 52,000 signatures.
A vigil for Anthony was scheduled for Sunday evening at Children's Healthcare of Atlanta.