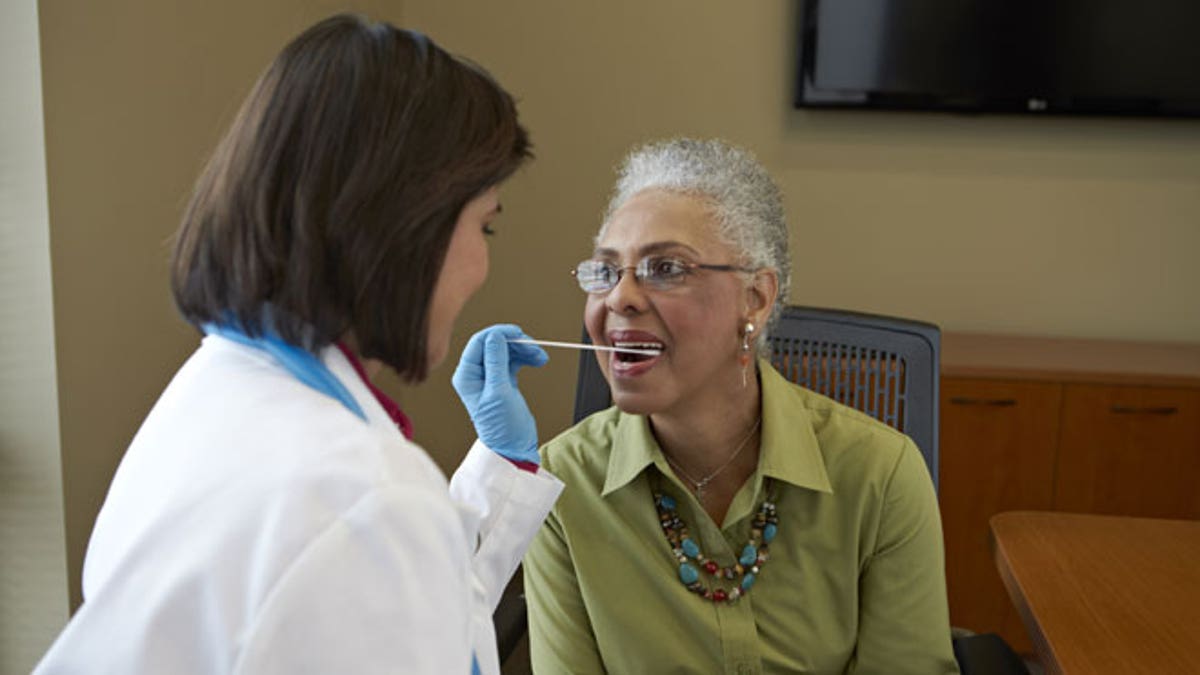 Depression is the most common comorbidity in the United States— exacerbating conditions like diabetes, hypertension and post-traumatic stress disorder (PTSD)— but identifying the best medication has historically proved challenging for psychiatrists. Studies show that, on average, when a doctor prescribes an antidepressant, there's a 50 percent chance it will work, and, if not, there's only a 25 percent chance the next attempted drug will work.
"So now, you have 75 percent of patients failing the second medication, so you get this nocebo effect— you feel hopeless and that nothing is going to work on you, and you start giving up on the interventions. And half of how these interventions work is if you believe in these interventions," Bryan Dechairo, PhD, senior vice president of medical affairs and clinical development for Assurex Health, a personalized medicine company specializing in pharmacogenomics, told FoxNews.com.
The need for effective, fast treatment is especially noticeable among U.S. military veterans with PTSD, of which 40 to 70 percent, depending on the branch, are also diagnosed with depression, said Kathleen Chard, associate chief of staff for research at the Cincinnati VA Medical Center.
To help identify the right type of antidepressant from the get-go, Chard's team is collaborating with Assurex Health to deploy 100 kits of its patented cheek swab test to Cincinnati VA Medical Center patients.
The genetic test, called GeneSight, extracts a patient's DNA from the cheek swab and runs it through an algorithm, analyzing eight different genes in the body to produce 20,736 possible patient genetic profiles. Unlike other tests, Dechairo said, GeneSight looks at genes all together rather than one at a time. Next, scientists use that information to determine which of the 38 medications approved by the Food and Drug Administration (FDA) are appropriate for a given patient, and, if so, at what dose. The test can produce a total of 787,968 total possible gene-medication combinations..
Psychiatrists are two months into the quality improvement pilot project, whose ultimate aim is to measure the effectiveness of psychotherapy and antidepressants against their previous average response rate in U.S. veterans with PTSD. Assurex Health and psychiatrists in Cincinnati aim to move onto a larger clinical trial next.
"The number-one treatment for PTSD is psychotherapy, but so many of our patients have gone past this where they have become depressed, so we need that antidepressant to get them along," Chard told FoxNews.com. "Having this test kit for us is, in many ways, a wonderful opportunity, an awakening, and a way to raise hope when hope is fairly lost."
Tailoring treatment for better outcomes
Chard noted that one of the key parts of PTSD is avoidance. Because veterans diagnosed with the condition are fearful of triggers in various social settings, from Fourth of July parties to baseball games, they are at risk of depression.
"The second highest diagnosis behind PTSD is depression, and if left untreated, people turn to substance abuse— so we really want to intervene as early as we can," she said.
After scientists produce results from the GeneSight test, they supply psychiatrists with a report containing three color-coded columns indicating which medications should be used as directed (green), which should be used with caution (yellow), and which should be used with extreme caution (red). The report also specifies how the listed medications are metabolized in the stomach and liver, and, thus, what dosing is appropriate for any given patient.
"The way the algorithm works for us is we're looking at two different things the body does with medications: How does the body process medication [and] how does it remove that medication from your body?" said Dechairo, who received his PhD in common complex human genetics from the Institute of Child Health at University College London and a bachelor's degree in integrative biology from the University of California, Berkeley.
Psychiatrists can use GeneSight to determine the proper prescription not only for PTSD and depression, but also for anxiety, bipolar disorder and schizophrenia. About 11,500 health care professionals have registered to administer the test, and 170,000 American patients— compared to about 30,000 in 2013— have used it.
In 2010, Assurex Health commercially launched the test, which combines previous technology from Cincinnati Children's Hospital and the Mayo Clinic. It is covered under Medicare, and the U.S. Department of Veterans Affairs awarded a contract that allowed the test to be used at VA facilities nationwide beginning in June 2014.
To date, results from five clinical trials suggest that in the general population, the test can result in 70 percent greater improvement in depressive symptoms and an average annual savings of $2,500 per patient, compared to their current standard of care.
In Cincinnati, psychiatrists have administered about 40 of the 100 test kits in their study group, and researchers expect to have formal results by the end of the year.
Benefits of testing
Casey Williams, 46, of Lake County, Ohio, received one of the 100 test kits being deployed at the Cincinnati VA Medical Center in late May.
Williams, who served in the U.S. Army from 1987 to 1993 as a combat engineer, was diagnosed with PTSD and depression in 2005. But he was struggling with hyper-vigilance, irritability, difficulty connecting with loved ones, and anxiety— all symptoms of PTSD— long before, he said.
"I played everything by ear," Williams told FoxNews.com. "Get a job, lose a job. Get in a relationship, lose a relationship. Everything was negative. Everything."
Since he was diagnosed with PTSD, Williams has tried at least 10 different kinds of antidepressants, going back and forth between those medications and antipsychotics. Many of them made him nauseous and drowsy, and one even made him hallucinate.
"It was a lot of trial and error," he said. "It was very frustrating. None of them were effective."
Now, after taking the GeneSight test, he is on a new combination of drugs recommended by the results— he takes three pills in the morning and one at night— and said he's feeling less anxious already.
He's nearing the end of an eight-week residential PTSD program at the Trauma Recovery Center Division of the Cincinnati VA Medical Center, and he said being on medication that feels effective has enabled him to concentrate on the program. For veterans enrolled in therapy for PTSD, maintaining that focus is crucial for success in therapy, said Dr. Jacob Forrester, MD, medical director of the trauma recovery center.
"It was very nice to have the information to help tailor [his prescription] because we're kind of time limited here," Forrester told FoxNews.com. "The benefit to this testing is really to make it less random and to have more info— that's not to say side effects can't occur even if genetic testing says it shouldn't be occurring. But it lessens that risk and gives us little more guideposts for medicine."
Chard said an upcoming separate pilot study with 10 GeneSight kits and 10 veterans will utilize functional magnetic resonance imaging (fMRI) scans to examine the efficacy of PTSD and depression therapy before, during and after treatment. Assurex, Cincinnati Children's Hospital, the VA Air Force Research Lab and the Cincinnati VA Medical Center are collaborating for the study. Researchers expect to begin enrolling patients in two weeks.
"We really do not have a lot of understanding in terms of the biomarkers, and in terms of who gets PTSD and who responds better to which treatment," Chard said. "We don't want people to stay sick a long time. It's a drain on them, their families and society to be sick with PTSD, so the sooner we can get them healthy, the better."