'Futile treatment' common in ICUs, study finds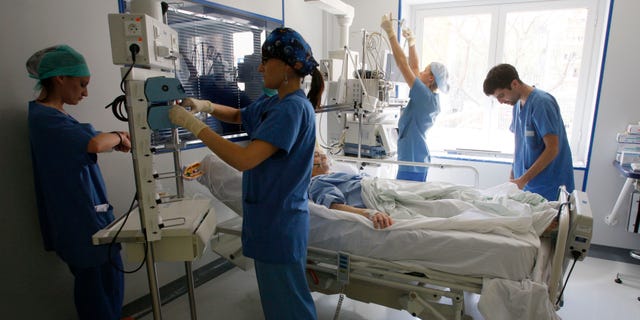 More than one in 10 patients being treated in intensive care units (ICUs) was at some point receiving what doctors deemed to be futile care, in a new study.
In those cases, critical care doctors believed people would never survive outside an ICU or that the burdens of their care "grossly outweighed" any benefits. And, researchers found, treating each of those patients cost about $4,000 every day.
"Many physicians find that the provision of futile care is not only contradictory to their professional responsibility, but harmful to patients," Dr. Neil Wenger, director of the UCLA Healthcare Ethics Center at the David Geffen School of Medicine, and senior author of the study, said.
"The biggest issue, more important than the cost issue, is the use of highly advanced medical care that was designed to rescue people that instead gets used to prolong the dying process," such as ventilators and medicines that raise blood pressure, he told Reuters Health.
For their study, Wenger and his colleagues first convened a group of 13 doctors who worked in critical care to agree on a definition of futile treatment. Categories included care for patients who were permanently unconscious or for whom death was imminent, or treatment that could not achieve the patient's goals.
Then, the researchers surveyed the attending critical care specialist in five ICUs every day for three months about each of that doctor's patients to find out how many were receiving futile care under the focus group's definition.
During the study period, 36 doctors assessed 1,136 patients, with an average of six assessments per patient. Of those patients, 123 - or 11 percent - were determined to be receiving futile treatment, and another 98 (8.6 percent) were perceived as receiving probably futile treatment.
Eighty-four of those receiving futile care died before discharge, and another 20 died within six months of their ICU stay, the researchers reported in JAMA Internal Medicine. The rest were left in "severely compromised" states, with many kept alive by machines.
Wenger and his team calculated hospital costs for futile care were about $4,000 per day, adding up to $2.6 million of treatment provided unnecessarily.
Dr. Michael Niederman, chair of the department of medicine at Winthrop-University Hospital in Mineola, New York, said how often futile care is provided is likely to vary between ICUs.
"It's very difficult to come up with a definition of futile care," he told Reuters Health.
"I think there are many things we do where over time we realize we're unable to help the patient."
Niederman, who has studied futile care but wasn't involved in the new research, said along with the costs of providing intensive care that is unlikely to help, there may be times when such treatment hurts other patients as well.
For example, many very sick patients in the ICU are on antibiotics, even if they don't currently have an infection. One study he cited showed one quarter of them developed multi-drug resistant bacteria - which could then be spread to other patients on the unit.
Of course, the researchers said, doctors are not making treatment decisions on their own, and families may have different opinions on what constitutes futile care, or when the benefits of treatment outweigh the burdens.
"Many times family members have a sense of guilt and responsibility to their loved ones that they want everything done, and I think many times they don't understand what it means to do everything," Niederman said.
"The implied discussion here is, do we have the resources in this country to give people care whenever they want it regardless of whether we think the care has benefit?" he said. "That's a very difficult discussion."
Wenger said for him, the study highlights the importance of having conversations with patients about their end-of-life care while they are still able to participate in those talks.
"It's a very complex process making decisions for very ill patients who are on the brink of death," he said.
"The main message is that early discussions and advance planning are absolutely critical."