Florida mom warns of liquid nitrogen 'Dragon's Breath' snack after son's hospitalized: 'He could have died'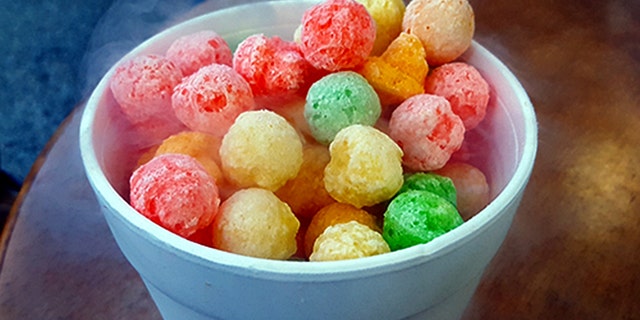 A Florida mom whose son was recently hospitalized after he ate a "Dragon's Breath" snack is warning others about the dangers of the liquid nitrogen-infused treat, especially for those with asthma.
Racheal McKenny, of Saint Augustine, took a trip last week with her two children and husband to The Avenues Mall in Jacksonville.
Shortly before leaving the mall, McKenny's son, Johnny, noticed the kiosk where the Dragon's Breath snack is sold and asked his mom if he could try it. The treat is coated in liquid nitrogen, allowing those who eat the treat to blow "smoke" out of their nose and mouth. The effect resembles a dragon, hence the name.
"They had fun and it seemed harmless enough," McKenny wrote in a now viral Facebook post detailing the incident. As of Tuesday afternoon, the post had more than 8,000 reactions and nearly 70,000 shares.
MAN HAS 4 LIMBS AMPUTATED AFTER DOG LICK LEADS TO SEVERE INFECTION, REPORT SAYS
But the seemingly harmless treat turned dangerous shortly after the family began their 40-minute trip home. Roughly 10 minutes into the ride, Johnny, who has mild asthma, "started an occasional cough," his mother wrote.
"Around 20 minutes in, the cough became really consistent. By the time we passed the Palencia subdivision, he was coughing so bad that he was having trouble catching his breath," McKenny said.
"We knew he couldn't breathe, and we knew that we couldn't get him to the hospital in time," she added.
Luckily, McKenny's husband, John, knew of a nearby fire station. The family stopped at the firehouse, where paramedics started Johnny on an albuterol treatment and IV before transporting him to a local hospital.
"The nebulizer was not improving his breathing at all and, by the time they got him loaded into the ambulance, he needed a shot of epinephrine. Johnny had a second breathing treatment and steroid on the way to the hospital and was doing so much better by the time we got to Flagler Hospital," she continued.
The boy returned home from the hospital a day after the incident, McKenny said, adding that her son is now "doing well."
Following the incident, the kiosk where McKenny purchased the snack posted an allergy and asthma warning, she told Fox News on Tuesday.
"My son could have died. Please don't make the same mistake I did."
"The kiosk owners were great about texting me ingredient information right away and they promptly updated their signs to warn future customers," she said.
That said, the mom of two is now warning anyone who "has even just a mild case of asthma" to steer clear of the Dragon's Breath treat, as liquid nitrogen can irritate a person's airways regardless of whether they have the condition or not, according to Action News Jax.
Liquid nitrogen can also cause burns. A 14-year-old girl was hospitalized in October after she was burned by the dessert.
CALIFORNIA WOMAN ENDS YEARSLONG SEARCH FOR KIDNEY DONOR AFTER POSTING SIGN ON CAR
"I should have known better, but it did not occur to me that this food could have this effect," McKenny wrote, adding that she plans to carry her son's emergency inhaler with her from now on.
"My son could have died," McKenny said. "Please don't make the same mistake I did."