Firefighters donate sick days, raise money for dad of 3 battling stage 4 cancer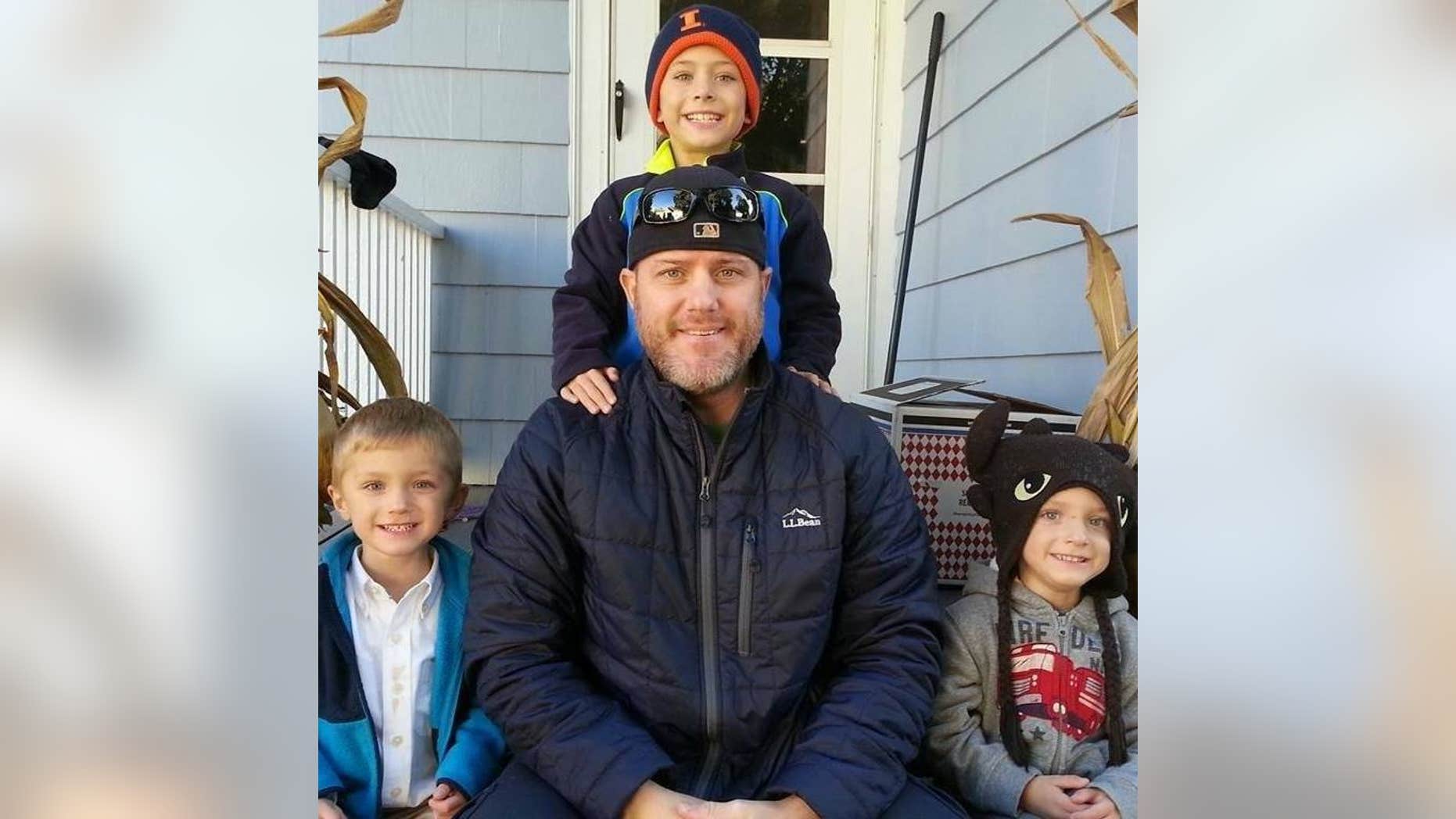 A Connecticut fireman is bracing for a series of trips to Illinois in hopes of finding a treatment that will stop his stage 4 colorectal cancer in its tracks. Scott Johnson, who learned the cancer has already spread to his liver, is gearing up for his battle with the help of his New Britain firemen brothers who have pooled together their sick days and hosted fundraisers in his honor.
"Scott is one of the best people I've ever worked with," Lt. Michael Ortelle told The Hartford Courant. "He has a great attitude toward the people — it's really heartbreaking that this has happened to him."
CANCER RESEARCHER-TURNED-PATIENT STARTS FACEBOOK GROUP TO TACKLE COMPLEX WORLD OF CLINICAL TRIALS
Johnson, 43, was diagnosed with the cancer in April 2015 and was receiving treatment at Memorial Sloan Kettering Cancer Center in New York until the medicine stopped working, according to the report.
"We knew it was going to be a very difficult battle," Caroline Johnson, his wife, told The Hartford Courant. "His doctor called it for all intents and purposes, 'an angry mass' — she knew it was a bad tumor after the colonoscopy; she thinks it was a polyp that went bad fast."
Johnson, the father of a 9-year-old boy and 5-year-old twin boys, has undergone three surgeries and months of intense radiation and chemotherapy, but has not given up his status in the U.S. Coast Guard Reserves as chief petty officer, The Hartford Courant reported.
"You get bad days where you're sad or feel depressed, and some days it takes a lot of motivation to get up," he told The Hartford Courant. "Those times I try to give myself a pep talk, or think I'm going to turn off my mind and just do it. And sometimes, you just have to suck it up."
PALLIATIVE CARE LINKED TO FEWER REPEAT HOSPITALIZATIONS
The Johnsons' young sons have pitched in to help raise money for their dad, with the oldest, Zachary, foregoing a birthday party in favor of rerouting those funds to donations for the organization Fight Colorectal Cancer. Zachary's efforts raised $11,000.
"When you have young kids, it's hard to explain," Caroline told The Hartford Courant. "They don't understand the magnitude of this. They're not supposed to — they're kids. They're not supposed to know why some days their dad can't get out of bed or play with them."
Johnson is scheduled to return to full duty at the firehouse in May after spending nearly a year on light duty. His hope lies in a treatment at Block Center in Skokie, Illinois, where doctors will provide time-release chemotherapy with dietary and exercise, the news outlet reported.
COLORECTAL CANCER RATES RISE SHARPLY IN YOUNGER US ADULTS
A GoFundMe set up on the family's behalf has helped raise more than $23,000 to help cover his treatment costs. Family friends have also pooled together frequent-flier miles and scheduled pasta dinner benefits.
"We've gotten so much support," Johnson told The Hartford Courant. "It means so much. It would be so much harder if we didn't have so many people helping."
As they prepare for the next step in Johnson's battle, the family is doing what they can to help others avoid a similar plight.
"Cancer doesn't discriminate, it comes when it comes," Caroline told the news outlet. "A lot of younger people are getting this now. The colonoscopy is such a simple procedure. I know nobody likes to prepare for it, but it's just 24 hours. And I would never want this to happen to someone else — it isn't pretty."