Finding them first: Med student spearheads rescue and relief in Brooklyn after Sandy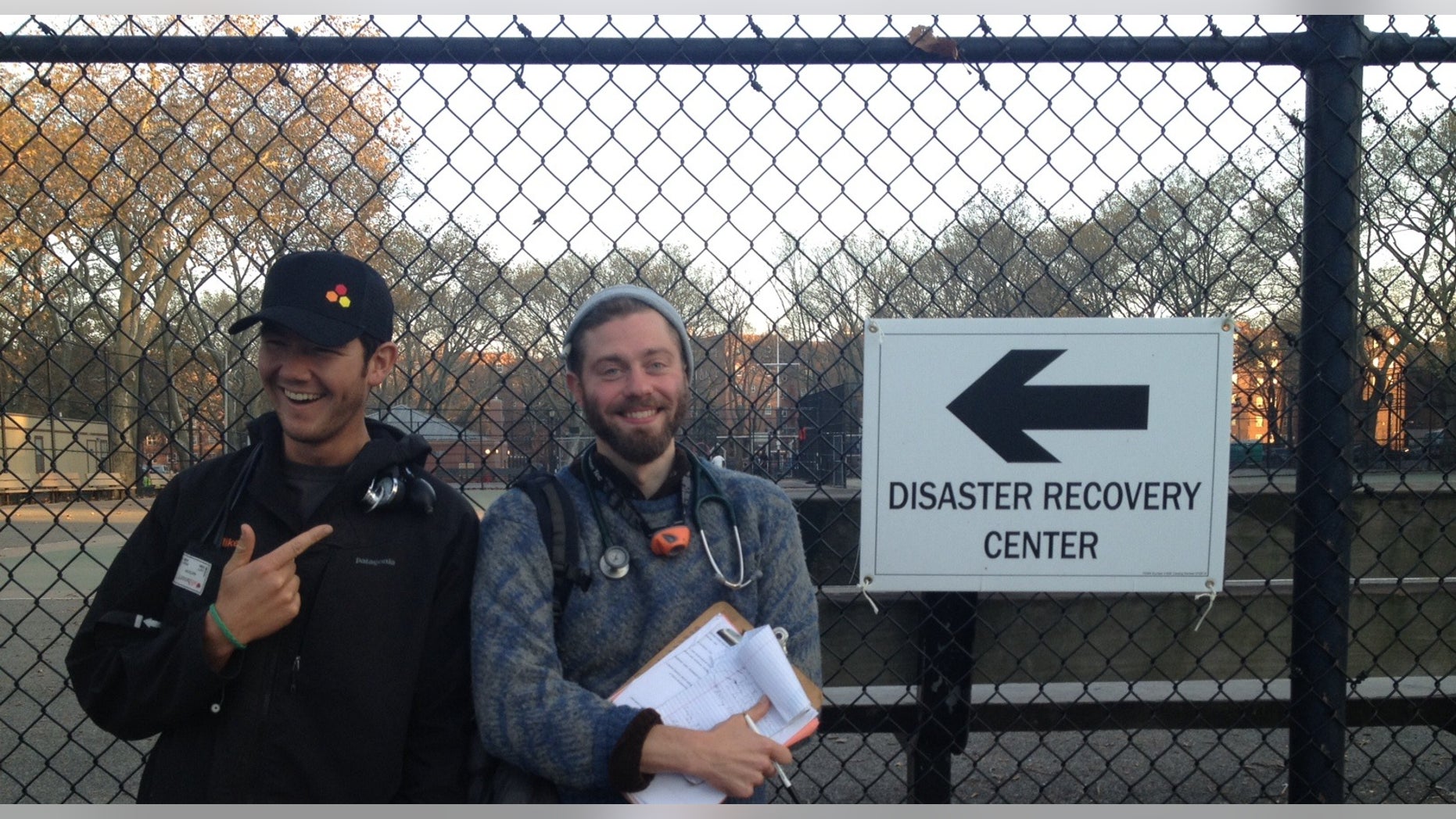 When Matthew Kraushar was approached about creating a major medical relief effort in the Brooklyn, N.Y., neighborhood of Red Hook after Hurricane Sandy, he didn't think he was qualified to do it.
"I was approached by Carlos [Menchaca]" -- a staffer for City Council Speaker Christine Quinn -- "he heard that I had some medical training, and I said, '˜Listen, I'm just a medical student,'" Krausher, a 26-year-old MD and PhD candidate in the Robert Wood Johnson-Princeton-Rutgers Tri-Institutional Program in New Brunswick, N.J., told FoxNews.com.  "He said, 'Look, we have nothing.  There's no state or federal help coming in here, and we're worried there are people stuck in their homes.'"
Kraushar was immediately reminded of Hurricane Katrina, and he became concerned about residents in Red Hook living with chronic, sometimes complicated medical conditions -- who are stable under normal conditions.  With widespread power outages and many homes without heat and hot water in the wake of the storm, people suffering from easily maintained conditions could suddenly become acute medical situations, once cut off from their doctors and medications.
Determined to find these at-risk individuals before they became ill, Kraushar and various volunteers banded together and set out in groups -- combing through the Red Hook neighborhood and knocking on doors to check on residents.
"Our biggest problem initially was an information problem -- knowing who these people were, where they were, what medical conditions they had, whether or not they had a phone, if they could get out of their homes -- we had no idea," Kraushar said of getting started.
"We were essentially trying to put out fires before they started," he added.
Organizing the effort
Volunteers went door-to-door asking residents if they had any medical conditions going untreated because of the hurricane, or if they were having problems getting access to their prescriptions.  The volunteers documented the residents' complaints on a simple medical intake form and brought them back to "home base."
As a way to establish the initiative's headquarters, Kraushar and his team also set up a makeshift clinic in the Red Hook Initiative community center -- a place in which medically trained professionals would remain on call in case someone in the neighborhood had a medical emergency.  According to Kraushar, at least one doctor was at the center at all times.  One of the volunteer doctors to come to Kraushar's aid, Dr. Rebecca Rosenberg, a pediatric hospitalist at NYU Langone Medical Center, helped him to transfer leadership of his initiative to more experienced doctors, as well as helped bring in as many medically trained professionals as she could acquire.
"My friend is the founder and executive director of the Red Hook Initiative, and she called me and said, 'Can you talk to this medical student? He's running this medical relief effort and he seems overwhelmed,'" Rosenberg told FoxNews.com. "I called him, and he was just exhausted...and he was trying so hard to get someone to take this over.  He was doing great things, but he knew he needed a more systematic approach.  It's not really the job of a student volunteer, but he was doing an unbelievable job."
Rosenberg e-mailed as many medical colleagues as she knew, and eventually helped to transfer some of the relief's leadership to two NYU medical emergency residents, Dr. Salil Bahandari and Dr. Elizabeth Moye.  Soon, a comprehensive volunteer medical team was formed, and various doctors were sent out to residents who had reported medical problems.
While the doctors were prepared to treat as many ailments as possible, Kraushar was mostly concerned with the "big three" -- diabetes, respiratory issues and complex cardiac conditions.  Such health problems are manageable, but as soon as patients run out of insulin or blood pressure medication, what once was an inconvenience can soon become a serious issue like a stroke or heart attack.
To help prevent these catastrophes from occurring, Kraushar coordinated with the Red Hook Initiative and ultimately representatives from Occupy Wall Street, which has transformed into the relief effort Occupy Sandy.  Through their communication network, Kraushar and his team were able to get the supplies they needed to treat patients while they waited for power and heat to return.
"All of the resources we used were essentially donated through contacts at the Occupy people, for the most part," Kraushar said.  "At a certain point, my main focus was trying to just keep the ship afloat, and I would say to someone...'Listen, I need glucometers,' -- which is a blood sugar checker for the diabetics...And then they would just contact up the chain their various resources at different hospitals or different places, and it sort of just flowed in."
A better system for the future
So far, Kraushar's medical initiative has treated and helped stabilize more than 300 patients in Red Hook, and he said that the response from residents has been overwhelmingly positive.  Garnering the nickname "Medical Matt" by the Red Hook community, Kraushar said everyone he has seen has been unbelievably grateful for the help -- either for themselves or for their parents and grandparents.
Because before he got there, the residents were mostly on their own.
While it's been a great experience helping those in need, Kraushar said he was originally frustrated with the lack of government response in the area -- noting that he called multiple agencies such as the New York Department of Health and the mayor's office, looking for help.  As time wore on, representatives from FEMA and the Red Cross eventually started to become more visible, but according to Kraushar, they took far too long to arrive.
"What people don't realize is that the most crucial time is responding to the acute event -- being there fast and early," Kraushar said.  "That was something that our system -- as makeshift and shooting-off-the-hip as it was -- was able to do in cooperation with the Occupy people and the Red Hook Initiative, that the government wasn't set up to do."
Another concern was that when government aid did arrive, it was more static than proactive.  Instead of looking for those in need, Kraushar said he often observed FEMA tents set up, waiting for people to come to them -- what he calls an ineffective strategy.
The lack of government attentiveness in the wake of Sandy has also been criticized by others.  According to the New York Daily News, the New York City Housing Authority (NYCHA) finally knocked on the doors of Red Hook homes -- looking for those in need of medical attention.  However, the NYCHA initiative came two weeks after the storm hit, ultimately finding 127 patients in need of medical care.  Fortunately they did not find anyone who had died -- a miracle Rosenberg credits in large part to Kraushar's work.
Since most power has been restored to Red Hook, Kraushar and Rosenberg have transferred the care of patients to the Red Hook Initiative -- but many are back to their normal way of life.  He credits the relief response with being an incredible team effort and has been inspired by how so many doctors and volunteers were able to come together to provide the care patients needed.   Going forward, he hopes that their initiative can help inspire the creation of similar pre-existing systems within the government.
"What I hope is the outcome from all of these discussions is that in the future when these kinds of things happen -- and we've seen it with Katrina, we've seen it with Irene, we've seen it with Sandy -- the government needs to be responsive more quickly and more precisely to the actual needs of people in the community.  They can't show up a week or two weeks later and say, 'Okay what can we do now?' Because at that point it's already game over."
For Rosenberg, seeing such a young medical student take on the care of so many people was a truly motivating experience.
"He did everything he could and took it all very personally -- the safety of every resident in Red Hook," Rosenberg said. "It's what drove him to do everything it seems.  It's really inspiring for anyone in medicine, when you see a young doctor or young person doing something like that.  It makes you remember what your goal is as a physician -- to do what's right for public health and individual health.  I don't think anyone told him that, he just knew it."