Final major surgery for girl mauled by pet raccoon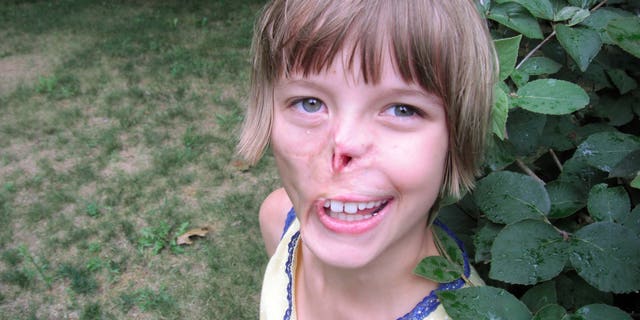 A 10-year-old West Michigan girl whose face was mauled by a pet raccoon when she was a baby has had her final major surgery.
A surgeon at Beaumont Hospital in Royal Oak, north of Detroit, divided a flap of skin from Charlotte Ponce's forehead to create the outside of her nose, MLive.com reported Saturday.
"The surgery went very well," said Dr. Kongkrit Chaiyasate, who also repaired the girl's upper lip. He plans to reconstruct Charlotte's right ear next summer, a minor surgery.
Her family said it was Charlotte's final surgery to reconstruct her nose and called it a complete success, according to WOOD-TV. She is undergoing a two-year series of surgical procedures to reconstruct her nose, ear and lip.
The raccoon attacked Charlotte in 2002 in her crib while her biological parents lived in Ravenna, about 15 miles east of Muskegon. They were charged with owning a dangerous animal that caused serious injury and were placed on probation.
Charlotte and her older brother, Marshall, were adopted by the Ponces, their great-aunt and great-uncle, in 2005 after the state terminated the biological parents' parental rights.
The Ponces live in Spring Lake, about 30 miles northwest of Grand Rapids. They believe the raccoon, which later was destroyed, wanted Charlotte's bottle.
Charlotte was expected to be discharged from the hospital Saturday and will be back in school back in early 2013, WOOD-TV reported.