FDA warns of serious liver injury risk with AbbVie hep C drugs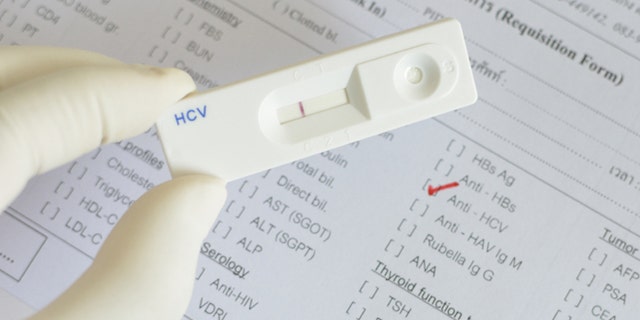 U.S. health regulators on Thursday issued a warning of potential risk of serious liver injury for certain patients using AbbVie's hepatitis C treatments, Viekira Pak and Technivie, sending the drugmaker's shares down more than 10 percent.
The Food and Drug Administration said AbbVie had identified cases of hepatic decompensation and liver failure in patients with liver cirrhosis who were taking the medicines.
"Some of these events resulted in liver transplantation or death," the agency said in a posting on its website. It did not say how many deaths were reported.
Shares of Gilead Sciences, which makes the top-selling rival hepatitis C treatments Sovaldi and Harvoni, rose 5.7 percent to $107.60. Shares of much smaller Enanta Pharmaceuticals, which helped develop the AbbVie drugs, plunged 40.6 percent to close at $23.90.

Len Yaffe, portfolio manager of the StockDoc Partners healthcare fund, called the liver toxicity warning a "huge positive for Gilead."
The FDA said it is requiring AbbVie to include warnings about the risk of serious liver injury in the labels of its combination hepatitis C treatments.
Since the approvals of Viekira Pak in December 2014 and Technivie in July 2015, at least 26 worldwide cases submitted to FDA Adverse Event Reporting System were considered possibly or probably related to Viekira Pak or Technivie, the agency said.
"Because post-marketing events are reported voluntarily during clinical practice, estimates of frequency cannot be made and a causal relationship between treatment and these events has not been established," AbbVie spokeswoman Jackie Finley said in an emailed statement.
She said the Viekira Pak and Technivie package inserts have been changed to say they should not be used in patients with a type of cirrhosis, which is advanced liver damage that can be caused by hepatitis.
The new information also includes a recommendation for physicians to assess evidence of liver decompensation prior to treatment and during treatment in cirrhotic patients.
In most of the cases, liver injury occurred within 1 to 4 weeks of starting treatment, the FDA said, adding that some cases occurred in patients who should not have been using the medicines.
"Patients taking these medicines should contact their health care professional immediately if they develop fatigue, weakness, loss of appetite, nausea and vomiting, yellow eyes or skin, or light-colored stools, as these may be signs of liver injury," the FDA said.
Gilead, which was first to market with the new treatments that virtually guarantee a cure for the serious liver disease without any of the side effects of older treatments, came under intense fire for the high price of its drugs, which were listed for about $90,000 for a course of treatment.
With competition from Viekira Pak, pharmacy benefit managers were able to negotiate steep discounts by playing one drugmaker against the other. Express Scripts Holding, the largest U.S. PBM backed Viekira, while CVS Health chose to favor Gilead's drugs.
Express Scripts said it will evaluate the warning "to determine if any additional action is required, especially for those with late-stage cirrhosis requesting coverage of Viekira Pak."
The PBM said it closely reviews all new clinical evidence and is able to rapidly respond to changes in drug labeling to ensure patients are well cared for.
Express Scripts shares fell 4 percent, while CVS shares rose 1 percent.