FDA Evaluating Safety of High-Tech Robot Popular Among Surgeons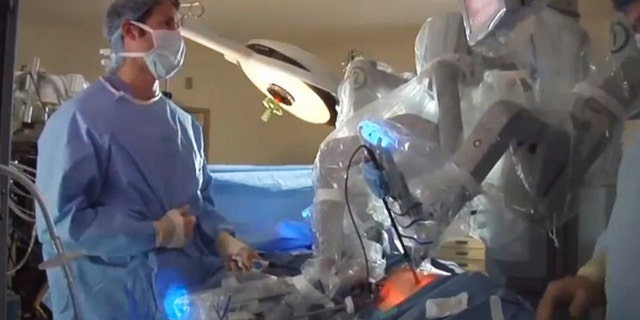 The shining star in operating rooms is no hot shot Dr. McDreamy. It's da Vinci — a million-dollar, multi-armed robot.
Employed in nearly 400,000 surgeries nationwide in 2012, use of the robot has tripled over the last four years.
But now the high-tech helper is under scrutiny over reports of problems, including five deaths.
There have been a few disturbing, freak incidents: a robotic hand that wouldn't let go of tissue grasped during surgery and a robotic arm hitting a patient in the face as she lay on the operating table.
So does that mean it's time to curb the robot enthusiasm?
Some doctors say yes, concerned that the "wow" factor and heavy marketing have boosted its use. They argue that there is not enough research showing that robotic surgery is at least as good or better than conventional surgeries.
Many U.S. hospitals promote robotic surgery in patient brochures, online and even on highway billboards. Their aim is partly to attract business that helps pay for the costly robot.
The da Vinci is used in operations that include removing prostates, gallbladders and wombs, repairing heart valves, shrinking stomachs and transplanting organs. Its use has increased worldwide, but the system is most popular in the United States.
"We are at the tip of the iceberg. What we thought was impossible 10 years ago is now commonplace," said Dr. Michael Stifelman, robotic surgery chief at New York University's Langone Medical Center.
For surgeons, who control the robot while sitting at a computer screen rather than standing over the patient, these operations can be less tiring. Plus robot hands don't shake. Advocates say patients sometimes have less bleeding and often are sent home sooner than with conventional laparoscopic surgeries and operations involving large incisions.
But the Food and Drug Administration is looking into a spike in reported problems during robotic surgeries. Last year there were 367,000 robot surgeries versus 114,000 in 2008, according to da Vinci's maker, Intuitive Surgical Inc. of Sunnyvale, Calif.
Da Vinci is the company's only product, and it's the only robotic system cleared for soft-tissue surgery by the FDA. There are other robotic devices approved for neurosurgery and orthopedics, among other things.
A search for the company's name in an FDA database of reported problems related to medical devices brings up 500 reports since Jan. 1, 2012. Many of those came from Intuitive Surgical. The reports include incidents that happened several years ago and some are duplicates. There's also no proof any of the problems were caused by the robot, and many didn't injure patients.
Almost 1,400 U.S. hospitals — nearly 1 out of 4 — have at least one da Vinci system. Each one costs about $1.45 million, plus $100,000 or more a year in service agreements.
Based on reporting by The Associated Press.
Follow us on twitter.com/foxnewslatino
Like us at facebook.com/foxnewslatino