Father shares photo of daughter near end of cancer battle to raise awareness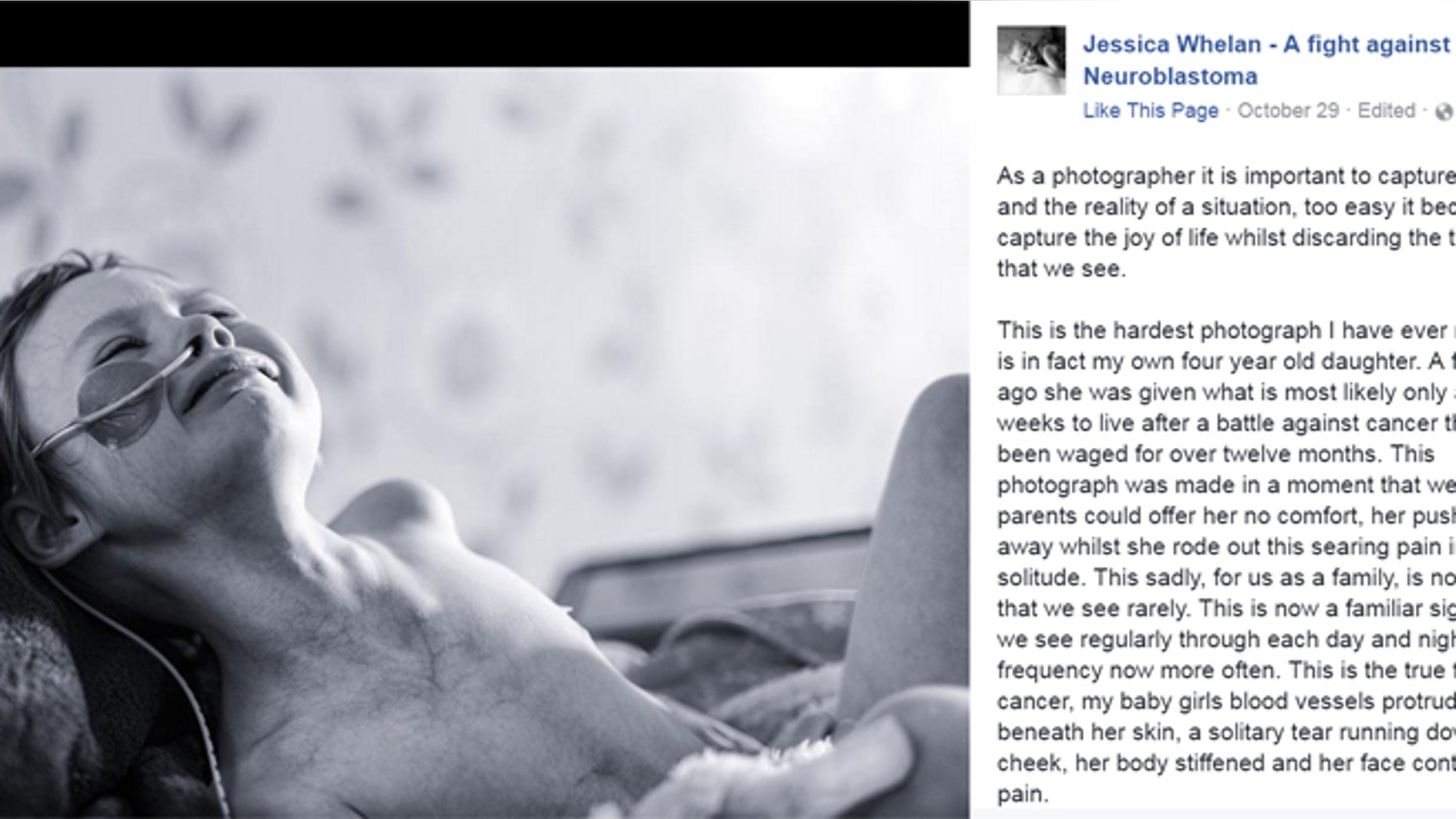 On Oct. 27, doctors at Royal Manchester Children's Hospital informed 4-year-old Jessica Whelan's parents that she would only have weeks left to live. Her father, a photographer, snapped a photo showing his child suffering from the pain caused by neuroblastoma and shared it on Facebook, pleading with followers to raise more awareness for pediatric cancers.
"This is the hardest photograph I have ever made, it is in fact my own four-year-old daughter," dad Andy Whelan wrote in the Oct. 29 post. "A few days ago she was given what is most likely only a few weeks to live after a battle against cancer that has been waged over twelve months. This photograph was made in a moment that we as parents could offer her no comfort, her pushing us away whilst she rode out this searing pain in solitude."
Andy added that the sight of his daughter in pain has become a familiar sight for the family, day and night, more and more often.
"This is the true face of cancer, my baby [girl's] blood vessels protruding from beneath her skin, a solitary tear running down her cheek, her body stiffened and her face contorted in pain," the post, which has more than 3,000 shares and 8,000 likes, read.
A local news report earlier this month covered the Oswaldtwistle family after they had decided to stop pursuing treatment once it was determined that Jessica's cancer had progressed. According to the report she had already been through four different treatments when doctors informed her parents that nothing more could be done.
"I could try and use a thousand words to describe this image that we as parents are confronted with on a daily basis but these words would fall short of truly depicting the sight we see," Andy wrote. "With this photo I do not mean to offend or upset, I do mean however to educate and shock those that see it in [its] context. Perhaps by seeing this photo people not in our position will be made aware of the darkness that is childhood cancer, perhaps these same people may be able to do something about it so that in the future no child has to suffer this pan, so that no parent has to bear witness to their own flesh and blood deteriorating daily."
Andy and Jessica's mother, Nicki Prendergast, brought their daughter to the beach, and held a party on Sunday near their home in the U.K. to celebrate her life. Andy shared on Facebook that Jessica had mixed feelings about the party, but was ultimately excited until she was felled by pain en route and forced to make an early exit.
"Please I beg of you, as a heartbroken father, it is too late for my daughter, but childhood cancer needs to be cured," Andy wrote. "No family should have to go through this hell."