Family sees hope in gene therapy for son diagnosed with fatal neurodegenerative disease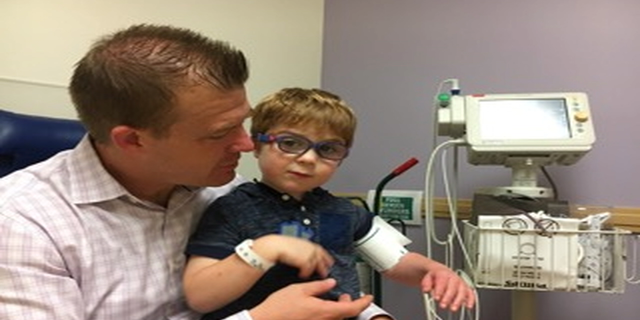 An Arizona family has relocated to Texas in hopes of saving their 5-year-old son Joseph, who was diagnosed with a rare and fatal neurodegenerative disorder called Batten disease. Matt and Gina Hann, who have three other children, are frantically raising money for a critical gene therapy trial at UT Southwestern, which may help transport a missing gene back to Joseph's brain, Fox 4 News reported.
"2018 is our goal, and we are moving very quickly because of course, Joseph is deteriorating every day," Gina Hann, Joseph's mother, told Fox 4 News. "But if we move fast enough, then Joseph actually has a chance to be one of the first people to survive this disease."
There are 14 different forms of Batten disease that resemble other progressive neurodegenerative diseases, such as Parkinson's, Alzheimer's and Huntington's. In March 2017, Joseph was diagnosed with CLN7.
PARENTS SHARE HEARTBREAKING PHOTOS OF BABY SET TO LOSE LIMBS TO MENINGITIS
Onset of symptoms for CLN7 typically begin between ages 2 and 7, with patients experiencing seizures, developmental regression, muscle twitches, difficulty coordinating movements, speech impairment and loss of mental functioning and motor skills. Patients typically do not survive pass their teen years.
"Without a doubt, whenever we realized what we were up against the decision was instantaneous and getting here, and getting here quickly was first and foremost," Matt Hann, Joseph's dad, told Fox 4 News.
Joseph has already suffered severe vision loss, and can only see about six inches in front of him. Despite the setbacks, his dad said rather than ask questions, Joseph adapts to his new way of doing things.
"He takes everything from one moment to the next, if he can't see here, then he puts the book here," Matt Hann said. "If he can't run fast, then he'll run slow. He doesn't ask why he can't run fast, he just does what he can and he's happy doing it."
The Hanns are working to raise $1.2 million for the manufacturing of the doses needed to begin the gene therapy. So far, they've surpassed $800,000 of their goal, and are keeping supporters updated through the Joseph Hann's Foundation for Batten Hope blog.