Family left reeling over 10-year-old's grim prognosis raising $200G for treatment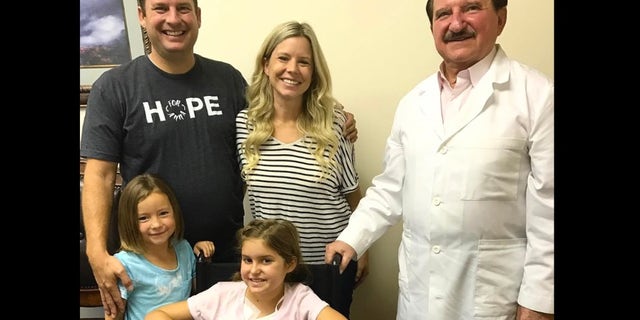 An Arizona family is reaching out for help after their 10-year-old daughter was diagnosed with an inoperable brain tumor and given a 0 percent chance of survival.
Anna Ortega, who has five sisters and one brother, once enjoyed soccer and playing piano competitively, but now requires help to walk. The aspiring baker and chef, who loves school because she gets to spend time with her friends, broke down in a touching video as she said she prays to live long enough to have a family of her own.
"We need people like Anna," Stephanie Porter, a family friend, told Fox 10 Phoenix. "We need people that show the world that there's good. There's good in this world, and this little girl has it."
Her parents, Ted and Mindi, have traveled to Texas with Anna and her six siblings for an alternative treatment plan that will cost $200,000 over the next month and is not covered by insurance. A GoFundMe page has kept supporters updated on her condition, and Porter is hosting a massive charity auction in hopes of raising enough funds to help keep Anna alive.
FINANCIAL ASSISTANCE TO HELP BREAST CANCER PATIENTS PAY THEIR BILLS
"People have been so kind and so giving," Porter told Fox 10 Phoenix. "There's things from vacation rentals, to braces, to things for your home, all types of services that people have donated to be auctioned."
The trouble for Anna began in March 2017, when she complained of blurry vision during a soccer game. A trip to Phoenix Children's Hospital and subsequent CT scans and MRIs revealed masses on her brain, later determined to be Diffuse Intrinsic Pontine Glioma (DIPG).
"One of the head oncologists and surgeons came to talk to us — told us what she had," Ted said in a video posted to the Hope for Anna GoFundMe page. "She said this is a form of DIPG, a diffuse intrinsic brain tumor — it's inoperable, it's in the brain stem. It's kind of an interesting feeling — I've never had that — for someone to tell you that your daughter has six to 12 months to live."
She underwent surgery a few days after her diagnosis, and doctors were able to remove one tumor but not the other.
"[The doctor] proceeded to tell us sorry and there's nothing they could do," Ted said in the video.
VETERAN PARATROOPER DONATES KIDNEY TO ARMY PAL
Unable to accept the grim prognosis for their daughter, who pens notes every week to each of her family members expressing her gratitude for their love, they took their search to Texas. On April 17, Anna and her parents met with Dr. Burzynski at his clinic in Houston to begin a strict regimen, which involves taking four medications. The family will live near The Burzynski Clinic for the next month before returning home and outsourcing the medication from various countries for a lower cost.
In a post on the family's GoFundMe page, Mindi shared that Anna's tumor is responding to the treatment but that medications have begun overwhelming her kidneys.
"From the bottom of our hearts we thank those who have already donated," Mindi wrote in the post. "Your contributions big or small have touched us and we are so grateful. If there is one thing I have learned through this experience is that the world is SO good! I can't describe what it feels like to hear from complete strangers that they are praying for our daughter. It's by far the most humbling experience."