Experts debunk viral theory linking microcephaly and pesticide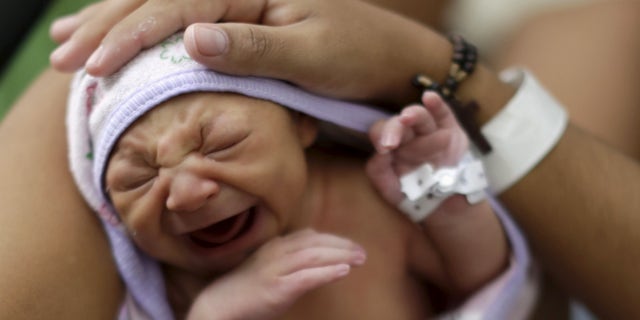 NEWYou can now listen to Fox News articles!
After a story went viral over the weekend linking a pesticide, rather than a virus, to the high rate of the birth defect microcephaly in Brazil, health officials from the United States and Brazil swiftly sought to refute the claim.
The University Network of Environment and Health, a group of doctors and researchers in Argentina, presented the provocative argument February 3. In their report, researchers claimed pyriproxyfen— a pesticide used in drinking water to block mosquito larvae— may be disrupting fetal development when ingested by pregnant women, potentially leading to babies born with microcephaly, The Washington Post reported.
Rates of microcephaly, a birth defect where babies are born with abnormally small heads and underdeveloped brains, have increased in Brazil, with the latest report revealing 4,443 suspected and confirmed cases as the country deals with an outbreak of Zika virus and its suspected link to microcephaly.
American and Brazilian health experts quickly responded to the report, reiterating that the evidence of the link— including the presence of Zika in amniotic fluid and the strong geographic and temporal correlation between the cases and infections— is strong and growing, The Washington Post reported.
The University Network of Environment and Health group did not conduct laboratory tests or epidemiological studies, Fortune reported. There is no scientific basis to the theory that pyriproxyfen is the cause of microcephaly, experts said.
An official from the U.S. National Institutes of Health (NIH) called the report "sketchy," according to Fortune.
In Brazil, Rio Grande do Sul took the paper seriously enough to suspend use of the chemical. The state's health secretary said the "suspicion" of a correlation was enough, according to teleSUR, a pan-Latin American TV station sponsored by various governments.
The Argentinian group's report was published in Tech Times, after which Monsanto issued a statement that the company does not make larvacides, and while it works with Sumitomo— the manufacturer of the chemical in question— the company is not involved with either the Zika virus or microcephaly. The Tech Times called Sumitomo a "subsidiary" of the agrochemical company.
Such "misinformation causes unwarranted fear and distracts from the health crisis at hand," Monsanto said, according to Fortune.
Tech Times updated their original article, stating in a new version that characterized Monsanto as having "cleared up its relationship" with the Tokyo-based company.
On Feb. 10, the Centers for Disease Control and Prevention (CDC) confirmed it had identified Zika virus in tissue samples of two babies who died of microcephaly.
"This is the strongest evidence to date that Zika is the cause of microcephaly [for these babies]," CDC Director Dr. Tom Frieden told members of the House Foreign Affairs Committee.
Microcephaly is not exclusively linked to Zika, as other babies around the world who were not exposed to the virus have been born with the defect.