Elvis impersonator tackles hoarding disorder on season premiere of TLC's Hoarding: Buried Alive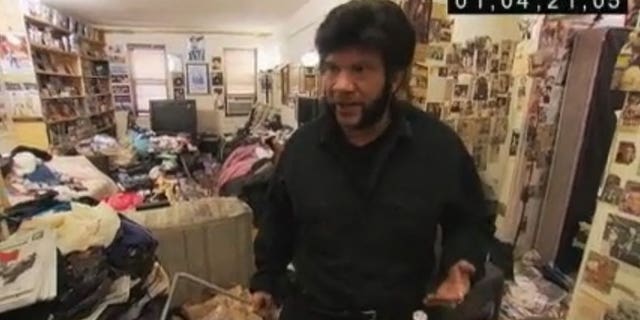 The fourth season premiere of TLC's hit series 'Hoarding: Buried Alive' kicks off July 8 with an in-depth look at the life of 51-year-old Cary, an Elvis impersonator who suffers from an extreme hoarding problem.
Cary, who lives in New York, had covered his apartment and depleted his bank account with Elvis memorabilia. His walls were plastered with news coverage of "the King," while his floor was littered with trash, napkins and rotting food, making it nearly impossible to walk safely from room to room.
The idea of throwing any of these items out caused Cary so much anxiety to the point where he suffered panic attacks daily.
"I'd rather be a poor man with garbage than a poor man with nothing," Cary declared during the episode.
Dr. Rebecca Beaton, Cary's therapist, and Leslie Josel, a professional organizer who also worked with Cary, spoke exclusively with FoxNews.com about the underlying roots and treatment of Cary's hoarding issue.
According to Beaton, Cary's hoarding was primarily driven by a sense of identity with his belongings.
"He thought his belongings were an extension of himself – without them, it would be like giving up a part of himself," Beaton said.
The belongings were also a form of companionship for Cary, who had been fired from his job as a school gym teacher and worked sporadically as an Elvis impersonator.
"All those things kept him company," Beaton said. "They wouldn't leave him like other people had. He had been hurt so many times by people – the things were safer."
Beaton said the onset of Cary's hoarding was likely tied to the death of his mother 20 years ago. His mother, also an Elvis fan, died of breast cancer in 1992.
"Trauma or loss, in particular, is usually a key component in a hoarding diagnosis," Beaton said. "…Usually the person has a tendency toward it anyway, but after trauma or loss, it gets worse. If it's a significant loss, it can get exponentially worse."

"You get the sense [from these people] of trying to numb the pain by focusing on collecting items or filling a void," she added.
Beaton explained that 57 percent of hoarders, like Cary, also suffer from major depression. In addition, Cary also fell on the autism spectrum, which could have accounted for some of his compulsions regarding Elvis.
While Cary's hoarding and compulsions accounted for his inability to part with any of his Elvis-related belongings, his depression likely better explained the build-up of trash in his apartment.
"[He had] the pile of razors in the bathroom – that was more out of depression," Beaton said. "He just hadn't thought about cleaning it up…People with depression don't have the energy to keep up their homes. They don't have the energy to put things away and keep organized."
Tackling a hoarding disorder as extreme and complicated as Cary's can be a challenging, multifaceted process. Like people who suffer from addiction, there is a high relapse rate among hoarders. Only 20 percent actually get better and stay better, according to Beaton.
To help change a hoarder's behaviors and make his or her home more livable, a professional organizer like Josel will often step in to help.
"As professional organizers, we have to be acutely aware of where we begin and end in the process," Josel said. "Our work is in the trenches. We guide the client to make clear and rational decisions regarding their belongings and to understand what their emotional connection is to them, so they can decide what they need to keep or let go of.
"We never tell clients the answer, but we guide them in how to make clear, rational decisions."
According to Josel, if a client shows too much resistance, it's important to know when to slow down and try a less intense tactic – such as merely clearing walkways – or even when to step away completely.
"You need to know when you're in over your head," Josel said, "You can't force it because it will only cause harm. We're not there to cause harm; we're there to reduce it."
Josel stressed organizers are not therapists like Beaton, who was there to help Cary try to deal with his emotional issues.
"He focused a lot on doing things for his [deceased] parents," Beaton said. "I wanted to help him realize that his parents would want him to be happier and live a better life."
For more on Cary's story, watch the season premiere of TLC's 'Hoarding: Buried Alive' on Sunday, July 8 at 9 pm ET. The network has ordered 18 episodes of the series with nine premiering in July and an additional nine to air in 2013.