Egg recall tops 207 million after more added over salmonella fears
NEWYou can now listen to Fox News articles!
A recall of nearly 207 million eggs due to possible salmonella contamination expanded on Monday to include another batch of the popular breakfast food.
Cal-Maine Foods, Inc. issued a voluntary recall for 23,400 dozen eggs the company purchased from Rose Acre Farms following the farm's massive recall announcement last week, The Food and Drug Administration announced Monday.
"Through an abundance of caution, Cal-Maine Foods, Inc. is voluntarily recalling one load, or 23,400 dozen eggs, purchased from Rose Acre Farms and re-packaged at the Cal-Maine Foods, Inc.'s Dade City, Florida, location. The product will list the plant number of P-1359D, and will have a Julian date of either 048A or 049A and a best by date of April 2, 2018, or April 3, 2018," the FDA news release stated.
ORGANS FROM OVERDOSE VICTIMS MAY SAVE THOUSANDS ON TRANSPLANT WAITING LIST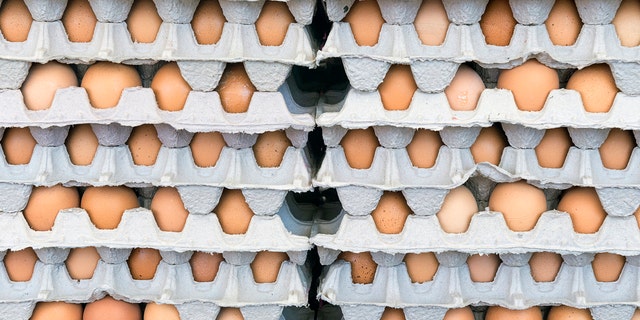 The eggs affected by Monday's recall were only distributed in Florida under brands including Publix and Sunups.
The announcement comes days after Rose Acre Farms issued a voluntary recall of 206,749,248 eggs after 22 people were sickened from eating the produce. Cal-Maine Foods said it has not yet received any reports of illnesses.
Health officials discovered the possible outbreak after reports of illnesses from consumers living on the East Coast. FDA officials inspected Hyde County farm, a facility in North Carolina that produces 2.3 million eggs a day. The possibly tainted eggs were distributed from the farm between Jan. 11 and April 12.
Cartons of the produce distributed to retail stores and restaurants in Colorado, Florida, New Jersey, New York, North Carolina, Pennsylvania, South Carolina, Virginia and West Virginia. The eggs were sold under several brands including Country Daybreak, Food Lion and Crystal Farms.
People with salmonella may develop symptoms such as fever, diarrhea, vomiting and abdominal pain. At times, infections could be fatal, especially in young children or elderly people. The bacteria can also cause arterial infections, endocarditis and arthritis on rare occasions.
Salmonella can contaminate the breakfast food product when infected chickens transfer the foodborne bacteria to the eggs before the shells are formed, the Centers for Disease Control reported. The bacteria can also pass through chicken feces getting on the eggs.
Visit the FDA website for more information on the recall.