Eating Healthy With Greek Yogurt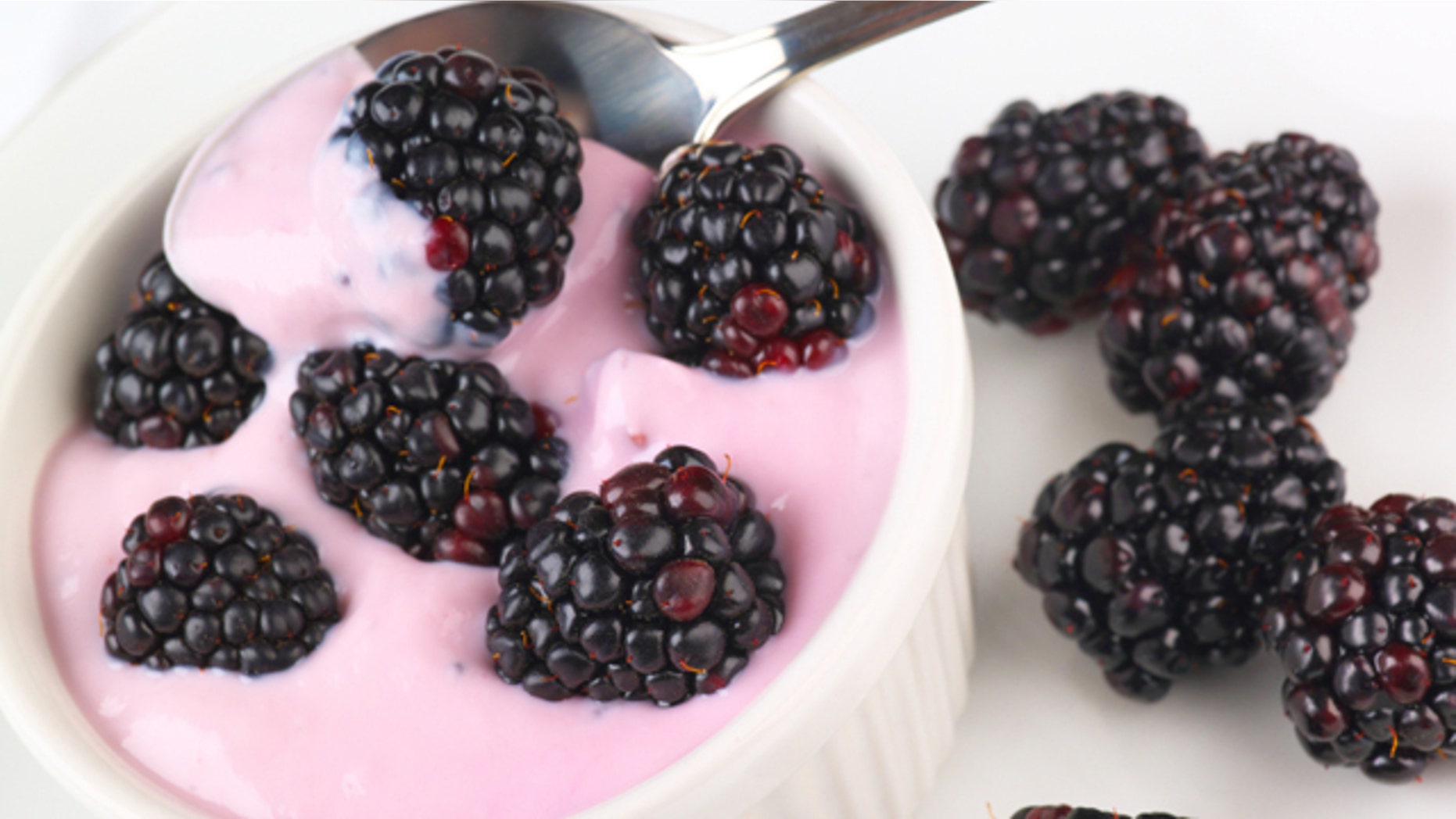 Greece has certainly seen better days. With the small, Mediterranean nation caught in the midst of economic meltdown, you would think that anything Greek would be avoided like the plague. Yet, health buffs everywhere have recently taken a shine to a dairy product that is as Greek as it gets -- Greek yogurt.
While traditional yogurt is far from flawed, there have always been complaints about its watery taste and excess refined sugar. In fact, many traditional yogurts should rightly be labeled as junk food because they offer little if anything other than sugar.
This is where Greek yogurt comes in. Greek yogurt is not exactly a different product; in fact, the real difference compared to traditional yogurt is in the preparation. Greek yogurt is strained through a special cloth or filter to remove excess liquid whey, yielding a more concentrated product that is thick and creamy. Not only does Greek yogurt differ in consistency and taste, but it also has the following healthy perks:
Health Benefits of Greek Yogurt
Higher in protein: Yep, one cup of Greek yogurt can contain upwards of 23 grams of protein (depending on the brand). That's nearly double its traditional counterpart.
Lower in sodium: With North American diets already swimming in sodium, there should always be a focus on eating foods lower in salt. Thankfully, many Greek yogurt brands contain up to 40 percent less sodium than similar traditional brands.
Reduced sugar: Although fruit-flavored varieties may contain excess sugar, non-fruit and low-fat Greek yogurts typically contain about half the refined sugar of comparative traditional yogurts.
Thicker and creamier: Many people prefer the rich and creamy taste of Greek yogurt to the watery style of traditional yogurt.
Contains active probiotic cultures: Although the same can be said of various traditional yogurts, many Greek yogurt brands contain a full complement of healthy probiotic bacterial cultures.
Of course, these perks do come at a cost, albeit minor. Greek yogurts tend to contain more calories and less calcium than traditional brands, but this is a small price to pay for all the healthy benefits you get in return.
Greek Yogurt Recipes
Because of its creamy texture and healthy status, Greek yogurt's popularity has skyrocketed among health circles in recent years. Just run a quick internet search and you'll find Greek yogurt is a key ingredient in hundreds of delicious, healthy recipes. Thankfully, AskMen has decided to save you the trouble as we've compiled five of our favorite Greek yogurt recipes.
Roasted Butternut Squash Soup With Greek Yogurt
Ingredients:
1 medium butternut squash
2 cups vegetable broth
1 cup low-fat Greek yogurt
1/2 medium onion, finely chopped (1/4 cup)
1/4 tsp of hot chili powder
1 clove garlic, peeled and finely chopped
1/2 inch fresh ginger, peeled and finely chopped
1/2 tsp sea salt
A few leaves of fresh herbs, sage or rosemary
A few toasted pumpkin or squash seeds for garnish
2 tsps extra virgin olive oil
Instructions:
For squash
Cut the squash in half lengthwise. Lightly brush with cooking oil and place on a baking sheet with the cut side down. Bake at 375 F for 45 minutes or until softened.
For soup:
Heat the oil in a medium pan. Sauté the onions for one minute then add the garlic and spices (chili powder, ginger and garlic). Sauté another minute. Blend this onion mixture with two cups of roasted butternut squash, salt and fresh herbs while adding two cups of broth until smooth. Return the mixture back to the pan or pot and bring to a slow boil. Reduce the heat and stir in the yogurt. Simmer on low heat for two minutes. Serve warm with some toasted pumpkin or squash seeds and some more Greek yogurt on top.
_________________________________________________________________________
More From AskMen.com:
Top 10: Hot Mediterranean Women
Avoid Winter Weight Gain 
_________________________________________________________________________
Pomegranate-Raspberry Greek Yogurt Smoothie
Ingredients:
1 cup pure pomegranate juice
3/4 cup Greek yogurt, preferably vanilla flavor
1/2 cup fresh or frozen raspberries
1/4 to 1/2 cup of instant oatmeal flakes
1 tbsp of tahini
2 small bananas, in chunks
1 1/2 cups of ice cubes
Instructions:
Combine the ingredients in a blender, and blend to preferred consistency. Add honey, protein powder, or two tablespoons of jam for additional flavoring or nutrition.
Spinach and Cucumber Salad With Greek Yogurt Mint Dressing
Ingredients:
2 tbsps fresh lemon juice
1 tsp honey
3 tbsps Greek yogurt
5 tbsps olive oil
2 tbsps fresh mint, roughly chopped
Kosher salt and freshly ground black pepper
8 cups lightly packed baby spinach leaves, washed and dried (8 oz)
2 medium cucumbers, peeled, halved lengthwise, seeded, and sliced 1/8 inch thick (3 cups)
1/2 small red onion, halved lengthwise and sliced very thinly (2/3 cup)
Instructions:
In a medium bowl, whisk the lemon juice and honey. In another bowl, whisk the yogurt and olive oil. Add the yogurt mixture to the lemon juice in a thin stream, whisking constantly. Add the mint, 1/2 tsp salt and pepper to taste. Chill covered for up to 24 hours.
In a large bowl, combine the spinach, cucumbers and onion. Season lightly with salt and pepper and add just enough dressing to moisten the ingredients. Toss to coat, divide among eight plates and serve, adding any extra dressing at the table, if you like.
Low-Fat Greek Yogurt Vegetable Dip
Ingredients:
1 cup low-fat Greek yogurt
1 tbsp Dijon mustard
2 tbsps fresh mint leaves, finely chopped
1 tsp lemon juice
1/2 tsp dried oregano
1 clove garlic, crushed
1 tbsp olive oil
Salt and pepper
Instructions:
Put all the ingredients into a big bowl and whisk into a smooth mixture. Serve chilled with your choice of boiled, sautéed, grilled, or raw vegetables and bread.
Broiled Salmon With Citrus Greek Yogurt Sauce
Ingredients:
For salmon
1 (3 lb) piece salmon fillet with skin (1 inch thick at thickest part; preferably center cut)
3/8 tsp salt
1/4 tsp black pepper
For sauce
1 cup low-fat Greek yogurt
2 tbsps extra-virgin olive oil
2 tbsps water
1 tsp finely grated fresh lime zest
1 tbsp fresh lime juice
1/2 tsp finely grated fresh orange zest
1 tsp fresh orange juice
3/4 tsp salt
1/4 to 1/2 tsp mild honey (to taste)
Instructions:
Preheat broiler. Line rack of broiler pan with foil and lightly oil foil with some olive oil. Pat fish dry and check for bones by running your hand over fish from thinnest to thickest end. Remove any bones with pliers. Sprinkle fish with salt and pepper, then broil four inches from heat for seven minutes. Cover fish loosely with foil and continue broiling until just cooked through, seven to nine minutes more.
While salmon broils, whisk together all sauce ingredients in a bowl until combined.
Serve salmon with sauce.