Drop in prostate cancer screening reveals split among doctors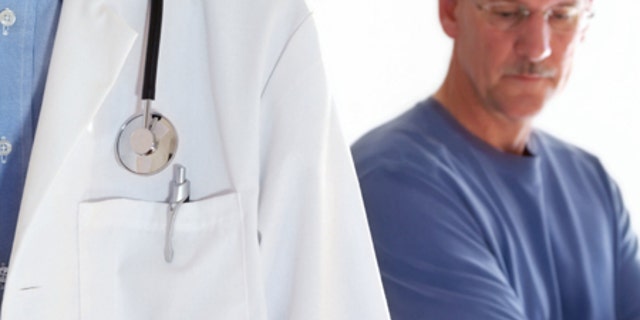 After U.S. guidelines advised against routine tests, declines in prostate cancer screening have been sharper among primary care doctors than urologists, according to a new study that suggests the medical community remains divided over the best way to look for these tumors.
In late 2011, the U.S. Preventive Services Task Force (USPSTF), a government-backed panel of independent physicians, recommended against routine prostate cancer tests for all men. They cited concerns that widespread screening often caught harmless tumors that didn't need treatment and led to unnecessary procedures with side effects like impotence and incontinence.
The next year, testing rates for prostate cancer among men aged 50 to 74 years old dropped to about 16 percent among primary care physicians, from roughly 37 percent in 2010 before new guidelines took effect.
But among urologists, use of the test for a substance in the blood called prostate-specific antigen (PSA) decreased only about 4 percentage points to about 35 percent over the same period, researchers report in JAMA Internal Medicine.
"There is much evidence that men with limited life expectancy do not benefit from PSA testing, and I think experts can agree on that," said senior study author Dr. Quoc-Dien Trinh, a urologist at Brigham and Women's Hospital in Boston.
"The rest is a matter of opinions and expert panels," Trinh added by email. "I do feel strongly that some men are more at risk of prostate cancer and I'm concerned about what will happen to these men given the current USPSTF recommendations and trends in PSA testing."
Both the American Cancer Society and the American Urological Association recommend that men discuss the benefits and harms of screening with doctors to make a joint decision. Among other things, patients should consider that black men and those with a family history of prostate cancer are at greater risk.
To see whether the type of physician patients see influences screening, Trinh and colleagues analyzed nationally representative survey data on 64 men who went to urologists for preventive care visits and 1,100 who saw primary care physicians. None had a history of tumors or other prostate problems.
The sample represents approximately 800,000 visits to urologists and 26 million visits to primary care doctors, nationwide, in 2010 and 2012.
One limitation of the study is that researchers relied on orders for PSA screening, which might not accurately reflect how many tests were performed, the authors note. They were also unable to see test results to assess how different doctors may have defined elevated PSA levels.
Even so, the differences in screening rates and changes in PSA testing over time likely reflect opposing perceptions among physicians about the benefit of screening as well as the conflicting guidelines, researchers conclude in JAMA Internal Medicine.
Recent decreases in screening have been associated with some decline in the detection of early-stage prostate cancer, journal editor Dr. Rita Redberg of the University of California San Francisco noted in an accompanying editorial.
It will take much longer, however, to understand how this impacts the number of men diagnosed with advanced tumors and prostate cancer deaths, noted Redberg.
The limited drop in PSA testing by urologists probably reflects a belief among specialists that they're doing what's best for patients, as well as a payment system that rewards more screening, not less, Redberg added by email.
Urologists may also see more patients who want aggressive treatment, while primary care physicians may see more older, sicker men who aren't good candidates for screening, said Dr. Alexander Kutikov, a urologic oncology specialist at Fox Chase Cancer Center in Philadelphia who wasn't involved in the study.
"Regardless of what specialist a patient approaches to discuss PSA screening, patients must understand that decisions regarding screening are exceedingly personal," Kutikov said by email.
Though most men will die with and not of prostate cancer, some doctors and patients may still hesitate to forgo screening because the disease is curable only when it's caught before it spreads, Kutikov added.
"What is the right decision for one person may not be right for another," Kutikov said.