Device with HD screens helps Pennsylvania girl see for first time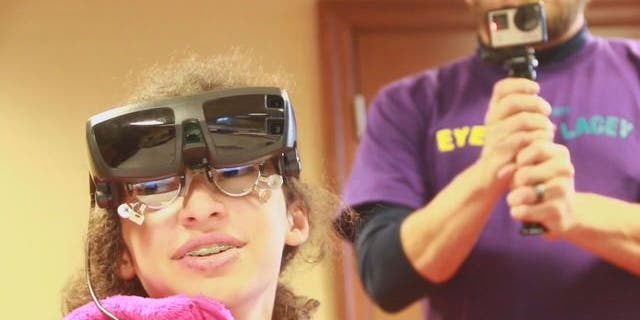 Twelve-year-old Lacey Bachart got her Christmas present early this year, and it's granted her the gift of vision.
The Bucks County, Pennsylvania, girl has Stargardt's disease, a rare genetic eye disorder that has taken away her central vision and allows her to only see peripherally. According to the National Institutes of Health, an estimated 1 in 8,000 to 10,0000 people have the disorder of the retina.
Her Christmas gift, eSight glasses, use technology to capture, enhance and display real-time video that allows individuals with low vision and legal blindness to see, according to the company website. Lacey's mother, Lisa Bachart, said the device has HD screens that magnify the details Lacey cannot see.
"[Lacey] was just so confident," Bachart told Fox29 earlier this month. "She was like ... I know they are gonna work. This is gonna change my life, and I still had a little doubt."
Lacey tried the glasses at an eSight center, and the first person she saw was her mother.
On Wednesday, Fox29 reported that Lacey received her own pair of the glasses. In a video posted on the news site, Lacey is seen rushing into her home and up the stairs to find the package with her glasses and hugging the box, even before opening it.

"This is so cool. You can actually see all the detail now of everything I own," she said in the video, smiling broadly and walking over to look at photos of her friends.
"I'm going to have the best Christmas, Mom, because of these glasses," she said. "I'm gonna see most of all the gifts I get and all the detail I get that comes along with them."
When asked what she was most excited to see, she said watching her brothers play basketball and her friends playing.
In the video, Lacey thanks her supporters.
"You guys have no idea how grateful I am," she said.