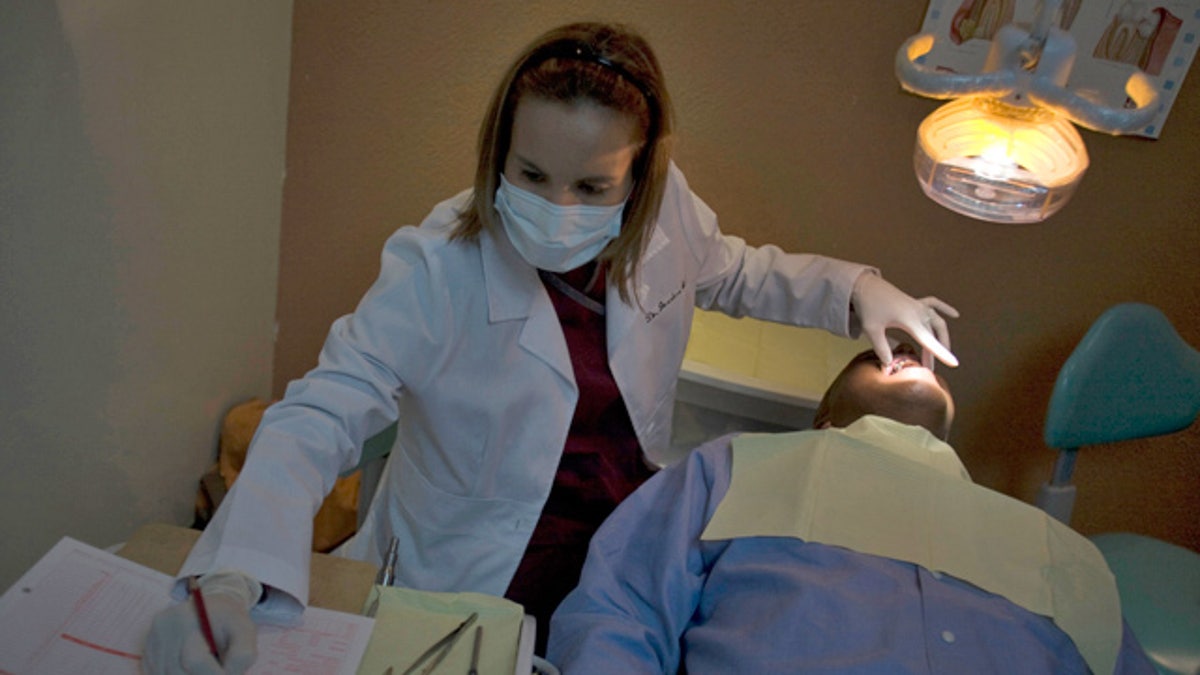 For people who have dental surgery, the risk of heart attack and stroke may grow during the weeks following the procedure, British research suggests.
"This is the first sign of increased risk for heart attack or stroke after a dental procedure," co-author Dr. Francesco D'Aiuto, a dentist and researcher at University College London Eastman Dental Institute, told Reuters Health. "This is not to say that this will happen with every dental procedure, but we are saying we need to look more into it."
It's hard to know exactly what's going on, because the researchers didn't have access to information about the drugs patients were taking around the time of their surgery. If they cut down on certain medications, for instance, that alone could have upped their chances of suffering a heart attack or a stroke.
Still, because these conditions affect more than one million people in the U.S., the increased risk could be significant.
According to the study, heart attack and stroke occurred more often in the first four weeks after the operation than any other time during or after the recovery period.
The researchers tapped into Medicaid data provided by GlaxoSmithKline – which makes drugs to treat heart disease and stroke – on a group of U.S. Medicaid patients receiving dental work, including simple procedures like removing a tooth.
D'Aiuto explained that heart attack and stroke are linked to bacterial infections and inflammation after other invasive treatments, likely because inflammation can damage the walls of arteries and contribute to the formation of plaques that clog arteries.
The authors, writing in the Annals of Internal Medicine, said that this led them to wonder about the role of dental surgery as well.
They couldn't find a lot of suitable patients to test, however. The Medicaid claims database includes information for close to 10 million people, but there were only 1,150 people who had an invasive dental procedure and a heart attack or stroke in the 4-year period they focused on.
In that population, 40 cases of heart attack or stroke occurred in the first four weeks after dental work – one and a half times the baseline rate.
Dr. Howard Weitz, a cardiologist at Thomas Jefferson University in Philadelphia and co-author of an editorial about the study, told Reuters Health that the study was not designed to determine if dental surgery causes heart problems, only to see if they are associated with each other.
He also said previous research shows that errors in recording information in a database like the Medicaid one are fairly common.
Even when it's correct, Medicaid information does not include the use of aspirin and other over-the-counter medications that help to prevent heart disease.
In some cases, doctors require patients to stop using aspirin in order to help prevent excessive bleeding during surgery. Weitz explained that cutting off aspirin could put some of these people at greater risk for heart attack or stroke later on.
Right now, he said there is not enough evidence to suggest people should start delaying dental procedures, which could potentially create other complications. Instead, people should speak with their doctors about their heart condition and let dentists know if they are at risk for a heart attack or stroke.
"This study could bring a lot of attention to dental procedures," said Weitz, "but I don't think people should look at this as a reason to be concerned."