Delonte West photos troubling for player with history of mental illness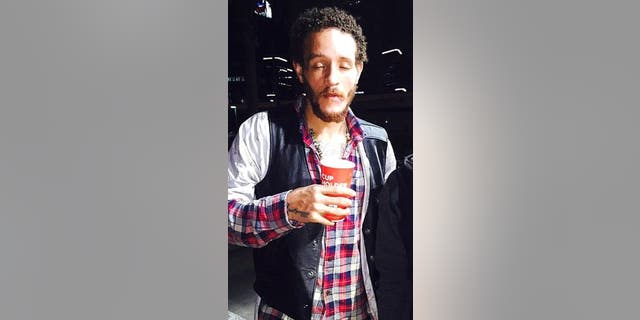 Recent photos that have surfaced on social media of former NBA player Delonte West wandering around shoeless in a hospital gown outside a Houston-area Jack in the Box appear to be a somber reminder of the downward spiral many celebrities publically embark on when their mental illness goes untreated.
The former NBA first-round draft pick was spotted by a fan around 10 p.m. Saturday, TMZ reported. The fan reportedly asked "Are you Delonte West?" to which he responded, "I used to be, but I'm not about that life anymore."
In the photos, which have since been deleted from the fan's Instagram page, West appears out of sorts and disheveled, with his eyes mostly closed.
West revealed his struggles with bipolar disorder shortly after exploding on a referee during a 2008 preseason game. In 2015, he talked to a Washington Post reporter about a childhood littered with mental health issues, including stints in children's hospitals after he swallowed pills and began cutting himself. He also disclosed in the article that he felt his bipolar diagnosis was overblown, and that he had stopped taking his medication.
That's not entirely uncommon for bipolar patients, Dr. Bill Cole, founder and president of International Mental Game Coaching Association, told FoxNews.com.
"Bipolars are noted for 'not' continuing medications," Cole told FoxNews.com. "They start to feel normal and don't think they need meds and situations like this occur."
Bipolar disorder is usually a life-long battle, Cole noted, adding that episodes of mania and depression typically come back over time, even without medication.
"Maybe that's what happened here," he said, referring West's bizarre behavior.
West is no stranger to negative media coverage. In 2009 he was pulled over near his home while driving his three-wheeled Can-Am Spyder motorcycle and carrying several guns, including one in a guitar case, shotgun shells and a bowie knife. He would later claim that he was transporting the weapons from his mother's house to another one of his properties, and avoid jail by pleading guilty to two misdemeanor weapons charges and a traffic charge.
There were also several stints while with the Cleveland Cavaliers where West, now 32, was noticeably absent which were well-documented in the press. He was excused from training camp one season while seeking treatment for what he then-called a mood disorder.
After a disappointing 2010 playoff collapse, rumors about West having a sexual relationship with the mother of then-teammate LeBron James began to circulate. Cavs fans pointed to LeBron's "poor play" and a "lack of team chemistry," as reason to believe there was a rift, keeping West's name in the headlines. While he denied the relationship for years afterward, in a 2014 interview with Vice Sports, West inserted himself back in the news and said the reason he didn't name his son Delonte West, Jr. was because of that rumor.
"His middle name is Delonte but I didn't want to name him Delonte West, Jr. just because of that," he said. "I don't want my son going to school and people making fun of him for something his daddy did. He going to school and 'didn't your daddy have sex with LeBron's mamma?' I don't want him to deal with all that, man."
In total, West's NBA professional career spanned eight seasons, earning him $16 million which he reportedly no longer has. He was last given a chance with the Dallas Mavericks in 2012, but was waived after being suspended twice for "conduct detrimental to the team." West's meltdowns in the past have been well-documented, including a Twitter post of his Home Depot application during the 2011 NBA lockout, and a winter spent with his second wife in house with no heat. He told the Washington Post in 2015 that as a child, small incidents would send him into a tailspin. Shortly before his diagnosis in 2008, he was experiencing the same symptoms.
"These guys are just as prone to depression, anxiety and substance abuse as anybody else," Dr. Justin Anderson, a sport psychologist with Premier Sports Psychology who treats athletes, coaches and teams but has not treated West, told FoxNews.com.
"When you see [the pictures] you can see he's spinning in a direction that's probably not helping his cause," he said. And while it's hard for Anderson to speculate without meeting West, he said it's common for young men to turn to alcohol or drugs rather than seek treatment for a mental illness.
"That takes away the pain for a short period of time, but of course it creates a heck of a lot more side effects and fallout because of the behaviors associated with it," he said.
The pictures also caught the attention of NFL star Brandon Marshall, who was, himself, diagnosed with borderline personality disorder in 2011. Marshall, now with the New York Jets, told FoxNews.com in a statement that his heart broke when he saw the photos.
"My heart was broken when I saw the picture and read what was going on with Delonte," he said. "This situation is a microcosm of how our world typically deals with mental health: we don't know how to identify it, we don't know how to talk about it, and most people don't know how to deal with it. I pray that he has access to the help and resources he needs to get his life back on track."
Marshall, who co-founded Project 375, a nonprofit organization dedicated to eradicating the stigma surrounding mental illness, also posted the photo on his Instragram page and Twitter.
"Transition for any athlete any level -- high school level, college level, professional level -- a lot of our identity is tied up in the sport, and when we're no longer as or are an athlete, it can be hard to find purpose or meaning again," Anderson said, providing another possible reason for West's recent behavior.
"People have to reinvent themselves, and that can be a really challenging thing to do, especially when you've been given so much through that sport."
West's former agent Noah Croom declined to comment on the photos.