Dad inspired to run Boston Marathon after unborn daughter's Down syndrome diagnosis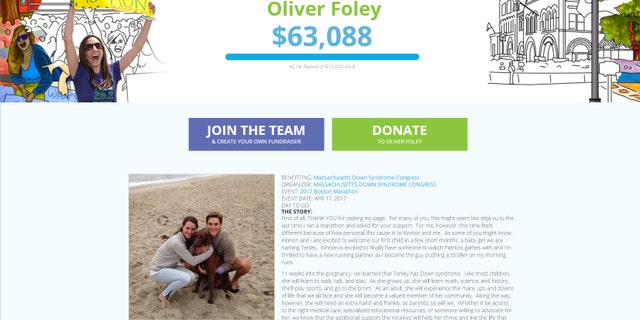 NEWYou can now listen to Fox News articles!
An expectant father will race through the streets of Boston on Marathon Monday in honor of his unborn daughter who was diagnosed with Down syndrome at 11 weeks gestation. Oliver Foley and his wife, Kinnon, of Charlestown, Massachusetts, are getting ready to welcome daughter Tenley into the world next month, and want her to know from the very start that she can achieve anything, ABC News reported.
"About six weeks after the diagnosis, the idea struck me — this would be my best opportunity to run a marathon," Foley told ABC News. "I learned the Massachusetts Down Syndrome Congress (MDSC) had one bib left. It felt like it was meant to be."
WOMAN WITH RARE DISEASE WHO DEFIED ODDS TO CONCEIVE CELEBRATES DAUGHTER'S 2ND BIRTHDAY
The couple had been referred to the MDSC first-call program after Tenley's diagnosis so that they could connect with other parents facing a new Down syndrome diagnosis and find information and resources that would be helpful to them, ABC News reported. Once Foley joined the organization's marathon team, he set a fundraising goal of $15,000, but has since raised more than $62,000.
Other parents involved with the MDSC are running in honor of their children, which Dr. Brian Skotoko, who runs the Down syndrome clinic at Massachusetts General Hospital, told ABC News shows "the best is still yet to come for everyone with Down syndrome and those who love them."
Foley will have another family member in mind as he racks up the miles, as Kinnon's uncle who died in 2012 also had Down syndrome, ABC News reported.
RUNNER WITH DOWN SYNDROME DANGERS HER WAY THROUGH HALF MARATHON FINISH LINE
"I was very close to him," she told the news outlet. "He was the most wonderful, loving, kind person. He brought incredible joy to his siblings and profoundly affected my mom and dad's lives."
Kinnon said her uncle helped paved the way for Tenley as her grandparents became advocates for people with Down syndrome.
"What we want for her is nothing different than what any parent wants for any child," Kinnon told ABC News. "We want her to feel happy and loved by her community."