Cracker Jack'd: New version of Cracker Jacks to contain caffeine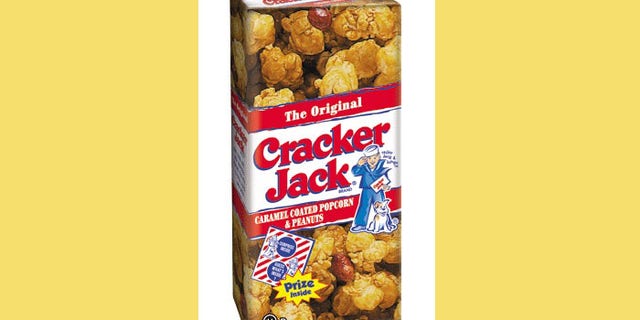 NEWYou can now listen to Fox News articles!
The popular popcorn snack Cracker Jacks is getting a new ingredient – and it's not something you would expect.
The nonprofit Center for Science in the Public Interest (CSPI) reported that Frito-Lay, the manufacturer of Cracker Jacks, will soon introduce a new version of its snack called Cracker Jack'd – which will have added caffeine. According to CSPI, the move violates Food and Drug Administration regulations, and the government needs to take action before other food and beverage manufacturers create similar products.
Michael F. Jacobson, CSPI executive director, has written a letter to the FDA's Center for Food Safety and Applied Nutrition in an attempt to alert the agency about Cracker Jack'd, MiO Energy – Kraft's caffeinated "water enhancer," and the caffeinated "Extreme Sports Beans" made by the Jelly Belly Candy Company.
Up to 0.02 percent of caffeine in cola beverages is considered safe by the FDA. The CSPI maintained a lack of regulations for other products makes the use of caffeine in them illegal.
"Unless the FDA begins enforcing its regulations, I fear that we'll see caffeine being added to ever-more improbable drinks and snacks, putting children, unsuspecting pregnant women, and others at risk," Jacobson said. "How soon before we have caffeinated burgers, burritos, or breakfast cereals?"
Frito-Lay said in an e-mailed statement to the Boston Globe that the new Cracker Jack'd Power Bites will have "two flavors that will contain coffee, a natural source of caffeine." According to the company, one 2-ounce serving of Cracker Jack'd will contain around 70 milligrams of caffeine – which is the FDA limit for every 12 ounces of soda.
According to the Mayo Clinic, the side effects of having too much caffeine include insomnia, jitteriness and irritability, fast heartbeat and even muscle tremors. A major concern of CSPI and the American Academy of Pediatrics is that products such as Cracker Jack'd and MiO Energy are being marketed to children and teens – who are more susceptible to the effects of caffeine.
"Additional concerns regarding the use of caffeine in children include its effects on the developing neurologic and cardiovascular systems and the risk of physical dependence and addiction," the AAP says. "Because of the potentially harmful adverse effects and developmental effects of caffeine, dietary intake should be discouraged for all children."
However, Frito-Lay told the Boston Globe the new Cracker Jack'd line is not meant for children.
"Cracker Jack'D is a product line specifically developed for adult consumers and will not be marketed to children," Chris Kuechenmeister, a Frito-Lay spokesperson, wrote in a statement to the Boston Globe. "The package design and appearance are wholly different from Cracker Jack to ensure there is no confusion among consumers."
Click for more from the Center for Science in the Public Interest.