Couple married 69 years dies 40 minutes apart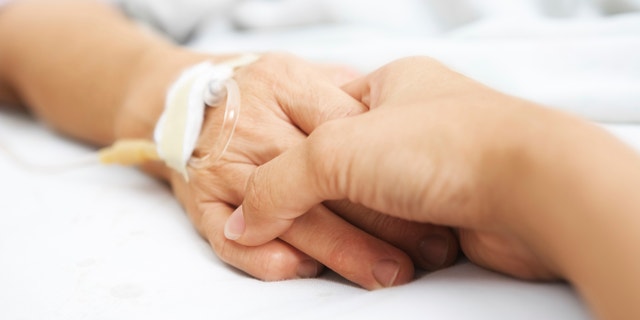 NEWYou can now listen to Fox News articles!
An Illinois couple married for 69 years died just 40 minutes apart on Saturday after hospital staff arranged for their beds to be brought close together. Isaac Vatkin, 91, held wife Teresa's hand as she succumbed to Alzheimer's disease at age 89, The Daily Herald reported.
Staff at Highland Park Hospital separated the pair after her death, and just 40 minutes later, Isaac died from an undisclosed ailment, according to the news outlet.
MAN CLAIMS FOOD POISONING FROM CHICKEN PARM NEARLY KILLED HIM
"Their love for each other was so strong, they simply could not live without each other," Clara Gesklin, one of their three children, told The Daily Herald.
Isaac was well into his 80s when Teresa was diagnosed with Alzheimer's, but he learned how to use the computer so that he could research potential treatments and cures. When the family decided it was time for Teresa to received specialized care outside of the home, he visited her every day, The Daily Herald reported.
MOM SHARES PHOTO OF DYING SON AS A PLEA
"You didn't want to see them go," William Vatkin, one of their grandchildren, told the news outlet. "But you couldn't ask for anything more."
The pair, who met in their native Argentina and moved to the U.S. to start their family, were remembered during a joint funeral service on Monday.
"They were always in love, literally to the end," Rabbi Barry Schecter said at the service, according to The Daily Herald. "To the last second."