Confusion about introducing solid foods to babies, survey finds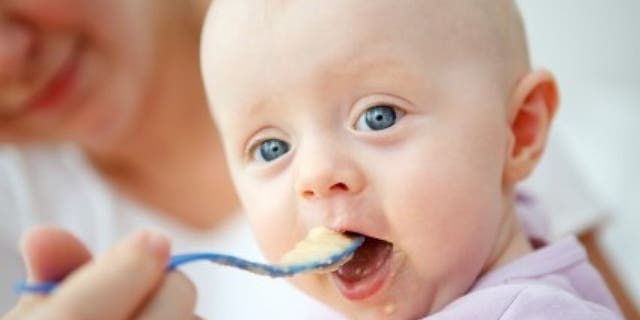 A recent survey found many parents are unsure about when and how to best introduce solid foods to babies.
According to a survey of 200 parents and expecting parents conducted by Beech-Nut Nutrition Company, more than half (53 percent) think information available on infant nutrition is not clear. One-third (34 percent) admit they are not sure when they should start their infant on solid foods.
The American Academy of Pediatrics recommends parents Introduce solid foods with a variety of textures around 6 months of age.
Wesley Lowman, a nutrition technician at Ann and Robert H. Lurie Children's Hospital of Chicago, encourages parents to keep in regular contact with a pediatrician.
"I think it's best that families are meeting with their healthcare providers to get a personalized look at their child, because each child is different and it's an important time," Lowman told Reuters Health. "It can vary so much when a particular child is ready for solids."
"Infants grow very rapidly; it's the most rapid period of growth in our whole life-span" said Dr. Mark R. Corkins, a professor of pediatrics at the University of Tennessee Health Sciences Center and member of the AAP council on nutrition.
Breast milk should be the main source of nutrition for babies in their first year of life, but is low in iron. "Iron is crucial for red blood cells, so start off with something that contains iron. Iron-fortified cereals are traditional," Corkins told Reuters Health.
"There's no hurry," he said. "It's not an emergency; some parents think they have to get started as soon as possible."
Dr. Adam Rubinstein, medical director of Advocate Health Care's behavioral health service line, also cautions parents against worrying too much.
"If a child is reaching milestones, there is nothing to worry about," the Illinois-based physician told Reuters Health. "Parents that have anxiety over these issues, even infants can pick up on that after about 2 to 3 months of age. The anxiety is worse than the lack of a certain nutrient."
He suggests a wide variety of fruits and vegetables be presented to babies in a "matter-of-fact" and calm manner. Parents should not be upset if their child rejects certain foods, he said.
Among the resources with more information for parents are the U.S. Department of Agriculture (http://1.usa.gov/1Wsf0X8), Health Nexus of Ontario (http://bit.ly/1EFId6a), and UNICEF (http://bit.ly/1Q2DW3o).