CONCACAF Gold Cup: Altidore Comes Up Big for US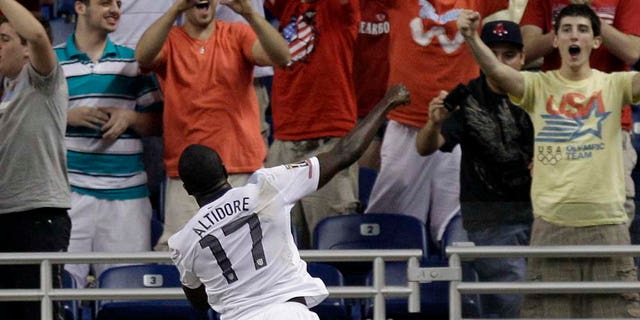 DETROIT – Perhaps more than any other position outside of goalkeeper, no spot relies on confidence more than a striker.
You have to have a strong constitution, be prepared to fail more than you succeed, and make sure you have a special way to celebrate your goals.
Which brings us to Jozy Altidore.
He is one impressive physical specimen. Altidore is 6-1 and 175 lbs. – though it appears he has even more muscle – has pretty decent speed for a man his size, and is strong as a bull.
He has all of the tools any player, coach or fan would want in a striker.
What more would you want?
Well, how about some more playing time with his club team so he could score more goals and make sure his confidence is sky high.
For his national team on Tuesday night, Altidore connected for the first goal and set up the second in the U.S.'s 2-0 CONCACAF Gold Cup opening win over Canada at Ford Field.
He was voted man of the match by the media in the Group C match.
"For confidence, it's a good game for Jozy," U.S. coach Bob Bradley said. "The movement that led to the first goal and, obviously, the ball that he put across for Clint's goal were both great plays. When you go through a stretch with your club team where you're not always playing regularly and not getting goals, in terms of confidence this was very important."
In wake of the 4-0 thrashing by World Cup champion Spain on Saturday, the Americans needed a good result and effort.
"I think it's for everybody," he said. "Coming off the game against Spain, I got down a little bit. You pick yourself up."
Altidore has become accustomed to that rollercoaster ride over the past three years.
Since bolting the New York Red Bulls for Villarreal in Spain's La Liga for an American record transfer fee of $10 million three years ago this month, Altidore has struggled to find playing time and the goal in Europe. He has been loaned to Xerex (Spanish Second Division), Hull City (England) and Bursapor (Turkey) in what has become a mini-tour of the continent, having scored but two league goals in 36 games.
In the same amount of matches for the U.S., Altidore has found the back of the net 11 times.
"It's what we do for a living, so you're kind of obligated to keep your sanity and your fitness," Altidore said. "We're professionals. You've got to stay on top of all of this as much as you can."
When asked if he had counted his club goals the past two years, Altidore broke into a big smile.
"I have not counted them at all," he said with a coy look on his face. "Good question."
At the moment, Altidore does not have a good answer to how to solve his club problem. But then again, Canada had more than its hands full with the striker on Tuesday night.
He showed all of his attributes in the 15th minute. After taking a feed from Landon Donovan, Altidore held off Canada captain and defender Kevin McKenna on the right side of the penalty area and spun to send a blistering right-footed shot that goalkeeper Lars Hirschfeld could not handle.
Altidore, who is not known for his passing, turned playmaker in the 62nd minute. He sent a right-wing cross to the back post, where Dempsey beat Nik Ledgerwood and volleyed the ball home for a 2-0 advantage.
"Jozy is an important guy for our team," U.S. midfielder Michael Bradley said. "Over the years, whether it has been qualifying, Confederations Cup or the World Cup, he's shown that he's a big guy on our team. We count on him and in a lot of ways he plays a big part in our success.
"There may be times when maybe the goals don't come, but even on those days he gives our team a lot," he added. "All you need to look at for that is the World Cup. He wasn't able to score but his overall contribution to the team every game was big. He's a guy that does a lot for us and we count on him and for him to get a goal tonight was good for him and is good for us."
So far, so good for the Americans as soccer fans across the United States eye a June 25 date to play archrival Mexico in the Gold Cup final. It's still early, as both teams still have some challenges and some potential pitfalls long the way.
Next up for the U.S. is Panama in Tampa on Saturday.
For Jozy Altidore, the next few weeks is an opportunity to play and show the world and his clubs that he can play this game and fill the net.
If he accomplishes that, it will do wonders for his confidence.
Michael Lewis, who has covered soccer for more than three decades, is a frequent contributor to Fox News Latino. He can be reached at SoccerWriter516@aol.com.
Follow us on twitter.com/foxnewslatino
Like us at facebook.com/foxnewslatino