Comedienne opens set for the ages: 'Hello, I have cancer.'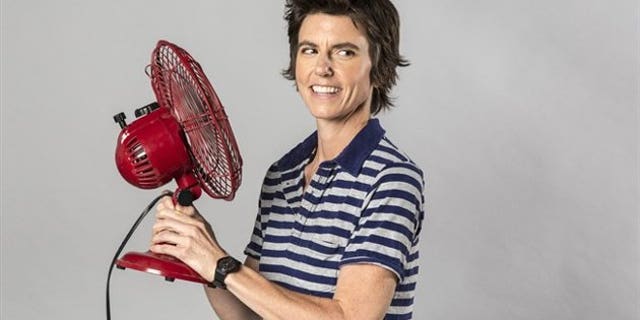 A frightfully nervous Tig Notaro stood just offstage at the Los Angeles club Largo while Ed Helms introduced her.
The audience of 300 and Notaro's fellow performers that August night had no idea what she was about to do. They had no idea she was going to address the trauma and pain that had been the last few months of her life, or relay the bad news she had received just days earlier. They had no idea she was about to perform the bravest set they had ever seen.
"Good evening! Hello. I have cancer. How are you?"
With those words - said cavalierly in the normal stand-up greeting manner - Notaro launched into a 30-minute performance that immediately became legendary in comedy circles and that's now available as an unlikely live album via a $5 digital release by comedian Louis C.K. In just a week, it's sold more than 60,000 copies.
The 41-year-old Notaro, a stand-up veteran of 15 years, was in the midst of a string of misfortunes: She had been hospitalized and debilitated by clostridium difficile, her mother had died in a tragic accident, she went through a break-up, and, days earlier, she had learned she had breast cancer.
"It's weird because with humor, the equation is tragedy plus time equal comedy," Notaro told a stunned crowd. "I am just at tragedy right now."
But Notaro's performance wasn't a weepy lament. It was matter-of-fact storytelling, filled with heartbreakingly funny observations. It was taking comedy straight into darkness and grief, in the rawest catharsis.
"It felt amazing," Notaro said in a recent interview, days after moving from Los Angeles to New York. "When I was on stage I felt, `Wow, I think something really special is happening.'"
The audience - at turns confused, amazed, gasping, saddened, hysterical - cheered her on, some through tears. Among those there that night was Louis C.K., who insisted Notaro release the largely unrehearsed show as a comedy album. He put it out on his website, calling it "one of the greatest standup performances I ever saw."
"Here was this small woman standing alone against death and simply reporting where her mind had been and what had happened and employing her gorgeously acute stand-up voice to her own death," C.K. wrote on his website. "She proved that everything is funny. And has to be."
It took Notaro more than a month to convince herself to release it (mostly because it was so raw and off-the-cuff, like an open-mic performance), but she was eventually swayed by thinking it could help someone. (Part of the proceeds will go to charity.) She dubbed it the typical-seeming title "Live," but it's meant to be pronounced as in "to live."
Notaro was performing that night partly to work out material she had written on her ordeal, having been urged by "This American Life" host Ira Glass, who would later feature her story on the radio program. Just 90 minutes before going on stage, she had thought she would begin by sitting down and laying everything out for the audience. Instead, while showering, she decided such an apologetic opening was "lame" and was seized by maniacal laughter at the thought of beginning as she did: "This is how I'm going to deal with having cancer," she told herself. She paused, worried that she might offend anyone with cancer, before realizing: "Wait, I have cancer."
"I just really needed to talk about it," says Notaro, explaining her mindset at the time. "What if my life is slipping away right now? What if this is the last time I can get on stage? ... I certainly never thought that was going to be my second album."
Notaro is now back from the brink. She had a double mastectomy and doctors believe the cancer has been removed with recurrence unlikely. She finds herself a sensation, and has signed a book deal with Ecco Press. Her first album, "Good One," is among the best-sellers on iTunes. "I've never gone viral before," she says.
"I didn't expect any of it - the good or the bad - and to the degrees that things have happened!" says Notaro, who's just begun a previously hired job writing for a Comedy Central show starring the comedian Amy Schumer. "I cannot wait, and I'm so curious, for the time that I have a boring day with nothing going on. I have not had a boring day in seven months."
It's an unlikely high-point for Notaro who has for years been a respected and popular stand-up. She grew up in Mississippi before moving with her mom to Houston. Notaro, whose real name is Mathilde, was nicknamed "Tig" by an older brother. Long a fan of Richard Pryor, Steve Martin and Paula Poundstone, she first began performing when she arrived in Los Angeles about 15 years ago. Performing at Largo in August - "a live-wire of nerves," she said - reminded her of that first time.
Her stand-up, while personal, hasn't typically been confessional or dark. Among her most famous routines is a never-ending bit about repeatedly running into `80s pop star Taylor Dayne. Performing on "Conan," she also stretched absurdity, spending the majority of her set pushing a stool around the stage.
But now, Notaro realizes a shift has occurred in her comedy and that she can't return to her old material. "Live" ends with her telling one of her jokes - one about a bee on a highway in Los Angeles - but she's telling it ironically. After talking about cancer and death, the joke is funny for being so foolish by comparison.
"I cannot imagine - and maybe it's just a matter of time - doing that kind of material right now," says Notaro, who hasn't yet performed since. "I feel a little more reflective and searching. My comedy is beyond me right now.
"I have no idea what's coming," she says. "It makes me feel like I'm just starting in stand-up. I feel like I've just been born, but I feel like I've been born with every tool I need in life. If you had a baby and it was born with all the experience it needed. That's how I feel."