College footballer dies after complaining of illness following game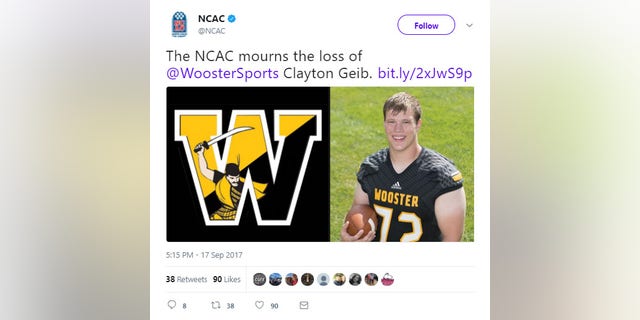 A senior offensive lineman for College of Wooster died suddenly after helping his team to a 38-20 victory over Ohio Wesleyan on Saturday. Clayton Geib, 21, fell ill after joining his teammates in the locker room and was taken to Wooster Community Hospital, The Columbus Dispatch reported.
Geib, a chemistry major, died Sunday at the hospital. A cause of death has not been released.
8-YEAR-OLD AUSTRALIAN GIRL DIES FROM FLU DURING 'HORRIFIC' SEASON
"He loved being a part of Wooster football, and winning in front of such a great crowd," head coach Frank Colaprete said, according to The Columbus Dispatch. "It's part of what made him so happy and it's why he chose Wooster – the community, the academics, he loved everything about it."
Colaprete said Geib had told his father Saturday was "the best day ever" following the team's win, and that the Ohio native's mother died suddenly two years ago.
HAWKEYE FAN WAVE BRINGS JOY TO 4-YEAR-OLD PATIENT, FAMILY
"We'll have to move forward because thaty's what Clayton did," Colaprete said, according to the news outlet. "He showed us the way, how to be resilient and move forward. There's nothing in the coaching manual for this, but that's all I can do, make sure to help lead the rest of these young men through their time of mourning and continue on."