College campus officials scramble to update health protocols amid Ebola fears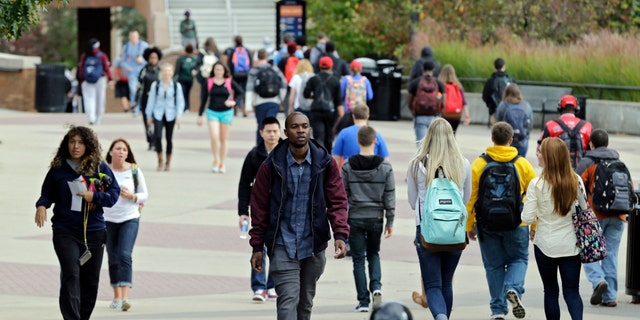 With two nurses hospitalized after contracting the Ebola virus on U.S. soil while treating an infected Liberian national in Dallas, school officials across the nation are scrambling to put protocols in place to protect their students from the disease.
"Since roughly early August, we've been communicating with members about what's going on and to make sure they follow the current CDC [Centers for Disease Control and Prevention] guidelines and postings," Craig Roberts, chair of American College Heath Association's (ACHA) emerging public health threats and emergency response coalition, told FoxNews.com.
"We're asking schools to think ahead about what they should do if someone calls and says 'I just got back from Liberia,'" Roberts said. The ACHA counts more than 800 colleges and universities among its members.
Among U.S. universities, 9,728 enrolled students are from Nigeria, 204 from Liberia, 169 from Sierra Leone and 95 students from Guinea, according to the federal government.
Liberia, Sierra Leone and Guinea are the West Africa countries hit hardest by the worst Ebola outbreak on record, which has killed nearly 4,500 people. Ebola is transmitted through contact with an infected person's bodily fluids and is not airborne.
"What college health centers need to focus on is screening and surveillance," Roberts said. "Knowing who has traveled and monitoring the people who have returned for those 21 days, particularly at the start of spring semester," he said, factoring in the likelihood that international students may travel home over winter break.
At the University of Illinois, enrolled Nigerian students will be pulled aside for a temperature check and private Ebola discussion when they arrive at the health center for mandatory immunization paperwork and tuberculosis screening required for all students, Dr. Robert Palinkas, the center's director said.
"Parents are comforted to know that there is a screening process, that we are alert for it, that we are prepared for it," Palinkas said, "and that we're doing everything we can without infringing on the rights of anybody to make sure their son or daughter is going to have the lowest risk possible."
Similar screenings are planned at the University at Buffalo, Mercer University in Georgia, Liberty University in Lynchburg, Virginia, and the University of Akron in Ohio, the campuses told The Associated Press.
And at Syracuse University, an appearance by a Pulitzer Prize-winning photographer at a journalism workshop has been canceled over concerns about his recent work covering Ebola in Liberia.
University officials say they acted after a student raised concerned about Michel du Cille's recent return from West Africa. The invitation was pulled Thursday after the Newhouse School's dean consulted with university and Onondaga County health officials. Du Cille maintains he returned 21 days ago and has remained symptom-free.
Instances of possible Ebola patients are being reported across the nation, with one recently involving a Yale University student in New Haven, Connecticut. The graduate epidemiology student was one of two who traveled to Liberia last month to advise the health ministry on using computers to track Ebola.
Preliminary tests show the student does not have the disease, Yale-New Haven Hospital said in a statement.
"We're not concerned about outbreaks; this is different from things like influenza or enteroviruses. Schools aren't going to be dealing with dozens of cases, they have to be prepared to deal with a single case," Roberts said.
"Yale was a perfect example," he said. "That was a scare but it was a student who returned from Liberia and had an illness, and that is probably the situation that schools are going to have to deal with."
Roberts said that campus clinics and health centers are likely at a low risk for handling Ebola cases.
"Basically the role of the clinic or student health center is going to be identifying someone with a possible illness and holding them before they're transported to a hospital or an ER [emergency room] for maybe an hour or so."
As campus officials work to prepare for possible cases, a concern among some is the lack of personal protective equipment available due to recent changes in CDC guidelines.
While face masks and gloves are available in abundance, it may be more difficult to order the safety hoods or coveralls, Roberts said.
This is hardly the first outbreak college campuses have dealt with, most recently the 2009 influenza virus had campuses scrambling.
"Many of these schools have done this for planning for influenza," Roberts said. However with Ebola, there are some major differences and needs such as waste clean-up that weren't necessarily addressed with influenza preparation. Roberts said universities should work with local health departments to address these concerns.
"I think we will be seeing in the forthcoming weeks to months, that schools will be grilling and holding practice as people get trained to deal with this," Roberts said.
The Associated Press contributed to this report.