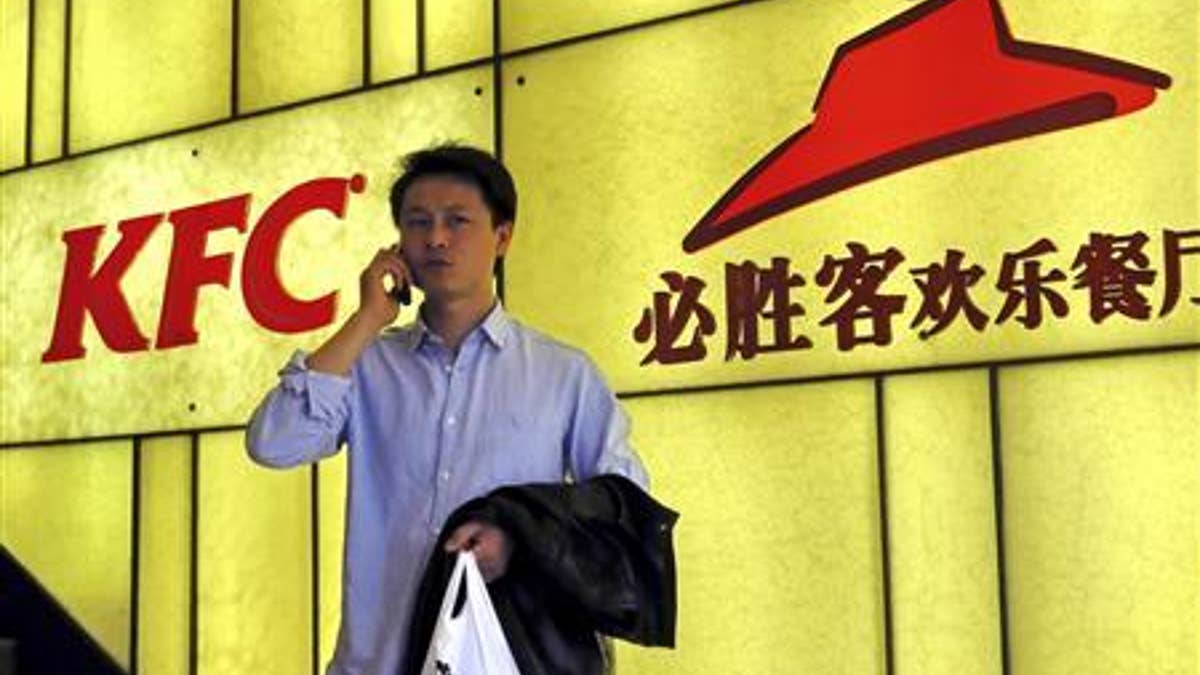 Yum Brands Inc, the biggest foreign fast-food chain operator in China, is in danger of breaking its 11-year streak of double-digit profit growth as it scrambles to deal with food scares and bird flu in its most lucrative market.
The U.S.-listed firm, the world's largest restaurant company by number of outlets, said in a filing Wednesday that the latest deadly avian flu outbreak would have a "significant, negative impact" on sales at KFC stores in China in April.
Analysts said the company's problems in China - which accounts for more than half its global sales - were deeply rooted, and that sales which started slowing before the chicken scare would need more than a flu-jab to revive.
"KFC has got off to a very bad start this year, it's had a double whammy of incidents. But increasingly there's also much stiffer competition from local quick service restaurants firms," said Frank Gibson, an independent business consultant based in Shanghai.
"Longer term it will be hard for them to maintain the growth they've experienced in the past, but this will be more due to a more complex and dynamic environment than necessarily due to the issues they faced in the first quarter of this year."
Yum's troubles in China began in December when it was accused of selling chicken laced with excessive chemicals. It was cleared of any wrongdoing and publicly apologized over its handling of the affair, but that did not spare it being accused of "arrogance" by the state-run Xinhua news agency.
Sales were beginning to recover when they were hit again by a new outbreak of bird flu, which has killed nine people so far and stirred fresh fears about the safety of poultry products.
CONSUMER CONFIDENCE
Beijing-based food and agribusiness analyst Chenjun Pan, at Rabobank International, said consumer confidence would take many months to recover.
"While the area affected is still in the east of China, the consumer confidence impact is nationwide," she added, saying the impact would be greater than previous bird flu outbreaks.
Some restaurants, airlines and schools in the commercial capital of Shanghai have taken poultry off the menu in response to the latest health scare, local media reported.
Several KFC outlets which Reuters visited were quieter than normal and had signs citing World Health Organization assurances that cooked chicken is safe to eat.
Not everyone was convinced.
"I avoid eating chicken these days. Not only KFC, but also McDonald's and so on," Moon Li, a Shanghai woman in her 20s, told Reuters.
China's popular microblog Weibo was abuzz with talk of giving up chicken and other meat.
"Recently I've decided to become a vegetarian," wrote 'A Qiong Smile' on China's equivalent of Twitter.
Yum said in Wednesday's filing it plans to educate consumers, as it has done in the past, that properly cooked chicken is safe to eat.
Sales at Yum's China restaurants that have been open for at least one year fell 13 percent in March, more than the 10 percent average drop expected by analysts polled by Consensus Matrix.
The March results included a 16 percent drop at KFC and a 4 percent rise at Pizza Hut. Yum is due to report its first-quarter earnings on April 23.
Yum shares fell more than 2 percent to $65.20 in extended trading following the report. Yum's stock traded around $72 in late March before reports of the first avian flu deaths.