Chilean girl who asked to be euthanized now wants to live, father says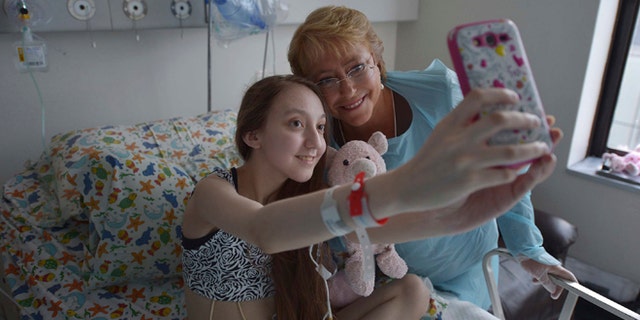 The Chilean girl hospitalized with cystic fibrosis who requested euthanasia a month ago has now "changed her thinking," her father told the Associated Press on Sunday.
Fredy Maureira told the Associated Press on Sunday that his 14-year-old, daughter, Valentina, has changed her mind after meeting people who responded to her plea to be euthanized in order to end her suffering from cystic fibrosis.
The girl told the El Mercurio newspaper, "There are people who have led me to change my way of thinking."
"Yes, she's thinking about it," Fredy Maureira confirmed. He said that she seemed most moved by meeting a 20-year-old survivor of the disease as well as "an Argentinian family from Córdoba … that had 3 sons with cystic fibrosis who died and another daughter who received a lung transplant in Brazil."
Cystic fibrosis affects a number of organs, especially the lungs, and creates recurring infections that damage tissue. It is an incurable genetic disease that frequently is fatal in children, such as Valentina's own brother, who died at 6.
After Valentina requested to be killed in a moving YouTube video that gained notice around the world, Chilean President Michelle Bachelet paid a surprise visit to the girl, something that brought tears to the eyes of her father--the first time the girl ever saw him cry.
"I've been fighting and asking that people listen for 24 years," Fredy Maureira said, explaining the emotion of that moment.
"I told the president, 'I sent you 20 letters,' and she said, 'I didn't see them' … I believe her. It was a very beautiful moment," he said.
Maureira mentioned that Valentina asked the president for a few things at the meeting: Allowing greater access to quality hospitals in Chile for children suffering from the disease, organizing the largest marathon in the world, and helping get a book and movie made based on Valentina's life.
Afterward Bachelet sent her a tape recorder to start making notes for the book project. The Chilean government took over the family's debt at the Catholic University Hospital, where Valentina is receiving care.
"We are fighting so that all children can receive treatment in quality hospitals here in Chile," Fredy Maureira said. "We've already gone to Congress, and I will continue with this fight."
Over the course of the years, Valentina's father has approached all kinds of public figures, from Madonna to the former Chilean President Sebastián Piñera to the coaches of the country's national soccer team, Marcelo Bielsa and Jorge Sampaoli.
Fredy Maureira's next goal is to get all the squads at the Copa América—the South American soccer championship being held in Chile this June and July—to carry signs about cystic fibrosis to increase awareness and boost funding for research in the disease.
As well as, of course, improving the life of Valentina.
"That she gets better and enjoys life and goes fishing—because she has spent a long time in the hospital," Maureira said. "She has had fevers and vomiting, and there have been ups and downs, but she wants out. That's the hope."
Like us on Facebook
Follow us on Twitter & Instagram