Child temporarily paralyzed after undetected tick bite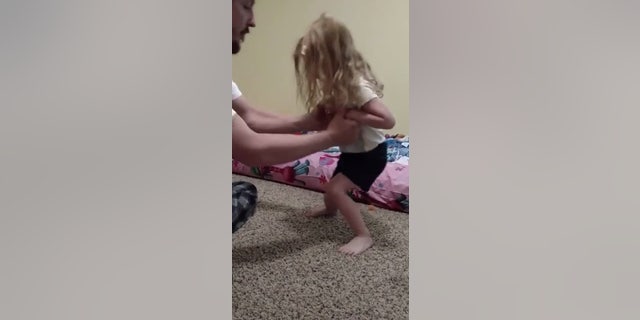 NEWYou can now listen to Fox News articles!
A mother in Oregon shared an alarming video of her young daughter struggling to stand after she was unknowingly bit by a tick, and the footage has since gone viral on Facebook. Amanda Lewis, who lives in eastern Oregon with her husband, Lantz, their their daughter. Evelyn, and a young son, said Evelyn had trouble standing earlier this week and had been acting strangely.
"She didn't want to stand up after her bath to get into her pajamas," Lewis posted on May 13. "I helped her and got her in bed. She was a little fussy last night and I ended up sleeping in bed with her all night."
"This morning she was having a hard time standing. She could barely walk, or crawl, and could hardly use her arms," Lewis posted.
DIARRHEA OUTBREAKS LINKED TO SWIMMING POOLS ON THE RISE IN US
The concerned mother wrote that due to her husband's history with an undisclosed cancer, they sent a video of Evelyn struggling before taking her to the emergency room.
"The doctor talked to us for a minute and said over the past 15 years he had seen about 7 or 8 children her age with identical symptoms and more than likely she had a tick," Lewis posted.
Doctors eventually found a tick hiding in Evelyn's hair and diagnosed her with tick paralysis, which she has since recovered from. Lewis said she hopes that by sharing the video, other parents know what to look for if their child or pet starts acting oddly without any obvious causes.
RESEARCHERS CONSIDER ZIKA VIRUS FOR BRAIN CANCER TREATMENT
"My husband and I are still in shock that this happened to our baby girl and I'm glad we were able to spread some awareness about this," Lewis wrote in an update to the post. "It's not terribly common for this to happen but it's good to be aware that if your children or pets start having weakness in their limbs to look for a tick! The doctor told us that the type of tick that was found on her does not typically carry lyme disease (dog tick) but we are keeping a close eye on her anyway."
As of Friday, Lewis' video had racked up more than 8.9 million views and had over 301,000 shares. She thanked supporters for their concerns about Evelyn and encouraged others to be vigilant.
Health officials have previously warned about an increase in the number of overall ticks this season after noting a growth in their population. A note from the Centers for Disease Control and Prevention (CDC) said the geographic ranges of ticks are expanding and infections from tick-borne diseases are steadily increasing.