Chickenpox Cases Down With Second Vaccine Dose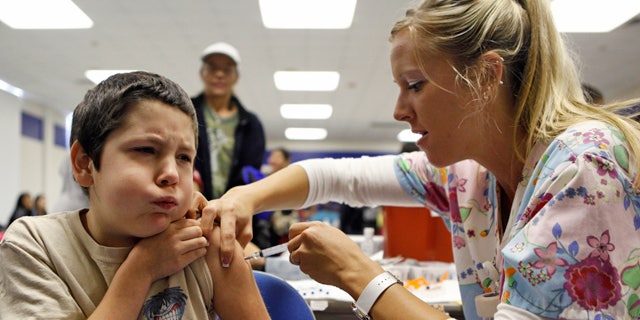 NEW YORK – Since health officials began recommending a second dose of the vaccine against chickenpox, cases of the infection among Connecticut children have further declined, a new study finds.
A vaccine against the varicella virus that causes chickenpox has been used in the U.S. since 1995. It was initially given in one dose, when children were between the ages of 12 and 18 months.
But in 2006, federal health officials changed their recommendations to add a second dose, to be given between the ages of 4 and 6. That was in response to the fact that about 15 percent of children who received one dose of the varicella vaccine remained vulnerable to chickenpox.
For the new study, researchers compared Connecticut's chickenpox rates for 2005 (before the two-dose recommendation) with those from 2008.
They found that cases fell by half, from nearly 49 infections per 100,000 people in 2005, to 24.5 per 100,000 in 2008.
And while the state saw 42 chickenpox outbreaks in schools for the 2005-2006 school year, there were only two outbreaks during the 2008-2009 school year.
Researchers led by Dr. Jessica A. Kattan, of the Connecticut Department of Public Health, reported the findings in the Journal of Infectious Diseases.
The results add to evidence of the chickenpox vaccine's effectiveness. Health officials have expected the two-dose vaccination program to further curb chickenpox infections and hospitalizations. But actual figures are just becoming available.
Studies have found that after 1995, the yearly rate of chickenpox infections in the U.S. fell by 80 percent to 90 percent over the next decade.
A study published on the same day as Kattan's, but in the journal Pediatrics, found that nationally, hospitalizations for chickenpox fell from 0.4 per 10,000 Americans each year between 1988 and 1995, to 0.1 per 10,000 between 2000 and 2006.
And another study published two days after Kattan's team's paper, in the same journal, reported that one dose of the vaccine protects 86 percent of kids, while two doses are 98 percent effective.
Chickenpox symptoms include an itchy, blister-like rash, fever, headache and fatigue. But some people can develop potentially serious complications, such as skin infections, vomiting and dehydration, pneumonia, and an inflammation of the brain known as encephalitis.
The current findings, according to Kattan's team, suggest that the second vaccine dose is having its intended effect. But, they write, "Continued surveillance is needed to determine the recommendation's full impact."
In particular, the study showed that while chickenpox cases fell among children between the ages of 1 and 14, they climbed somewhat among infants and older teenagers. And they rose to a statistically significant degree among adults age 30 and up, from just over one case per 100,000 people in 2005 to nearly two cases per 100,000 in 2008.
The reasons for those patterns are not clear, according to Kattan and her colleagues.
One of the benefits of routine vaccination is so-called "herd immunity" where a population's widespread immunity against an infection helps protect unvaccinated individuals as well.
It's possible, the researchers speculate, that in 2008, the two-dose regimen had not yet been given to enough people to boost herd immunity. Another possibility, they say, is that chickenpox immunity was starting to wane among teenagers and young adults who had received only one dose of the vaccine.
At this point, no one is sure how long immunity from the chickenpox vaccine typically lasts.
While relatively few adults get chickenpox each year, it is a concern because adults are at greater risk of complications than children are.
Sarah Clark, of the Child Health Evaluation & Research Unit at the University of Michigan, noted in email to Reuters Health that a booster dose of the vaccine means higher costs.
"But," she added, the second dose "may be helpful in reducing some of these other costs that are incurred because of breakthrough cases."