CDC: 40 percent of cancers linked to obesity, overweight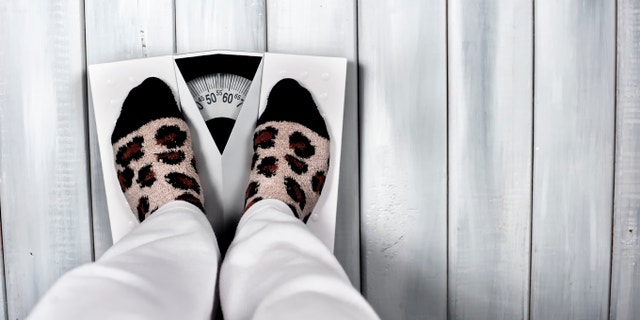 An unhealthy diet may affect more than just your waistband, a new Centers for Disease Control and Prevention (CDC) 'Vital Signs' report shows. In a press release on Tuesday, the CDC stated that 40 percent of all U.S. cancer diagnoses can now be linked to overweight and obesity.
The study presents daunting results, as nearly two-thirds of American adults are currently defined as overweight or obese.
"A majority of American adults weigh more than recommended – and being overweight or obese puts people at higher risk for a number of cancers – so these findings are a cause for concern," said Brenda Fitzgerald, CDC director. "By getting to and keeping a healthy weight, we all can play a role in cancer prevention."
MOM GETS JAIL OVER REFUSAL TO VACCINATE SON
Many Americans are unaware of the connection between obesity and cancer, despite findings that link nearly 630,000 of the 2014 cancer diagnoses to obesity. And while these cancers increased by 7 percent from 2005 to 2014, the rates of non-obesity related cancers dropped.
Out of all cancer diagnoses, nearly 55 percent of female cases and 24 percent of male cases were linked to overweight and obesity. These cases statistically affect older adults, mostly between the ages of 50 and 74-years-old.
The International Agency for Research on Cancer (IARC) has identified specific types of cancers that are related to obesity and overweight: meningioma, multiple myeloma, adenocarcinoma of the esophagus, and cancers of the thyroid, post-menopausal breast, gallbladder, stomach, liver, pancreas, kidney, ovaries, uterus, colon and rectum (colorectal).
Many of these, including colon and rectal, pancreatic, breast, liver, and ovarian are amongst the deadliest types of cancers.
HURRICANE MARIA VICTIMS AIRLIFTED TO MAINLAND HOSPITALS FROM US VIRGIN ISLANDS AND PUERTO RICO
The CDC is urging health care providers to fight these statistics by helping patients manage their weight and by encouraging healthy lifestyles.
"As an oncologist, when people ask me if there's a cure for cancer, I say, 'Yes, good health is the best prescription for preventing chronic diseases, including cancer,'" said Lisa C. Richardson, M.D., M.P.H., director of CDC's division of Cancer Prevention and Control. "What that means to health care providers like me is helping people to have the information they need to make healthy choices where they live, work, learn, and play."
The CDC currently has more than four programs dedicated to the treatment and prevention of obesity-related cancers.