Cancer survivor becomes nurse at hospital that treated her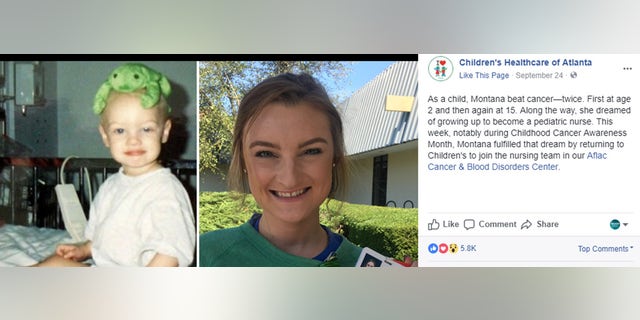 A 24-year-old Georgia woman who overcame cancer twice in her life has fulfilled her dream of becoming a nurse at the hospital where she received treatment. On Sept. 18, Montana Brown began her career at Children's Healthcare of Atlanta as a pediatric nurse.
"I just want to take a minute to say thank you to everyone who called and texted me today," Brown, who was diagnosed with cancer first at age 2, and again at 15, wrote in a Sept. 18 Facebook post. "As some of you may not know, today was my first official day at CHOA. Every time someone said 'Welcome to Children's!' or I looked down at my badge and saw that CHOA logo, it brought tears to my eyes."
NEW PILOT PROGRAM PUTS NURSES IN 911 RESPONSE CHAIR
In a show of support for their former patient-turned staffer, the hospital shared a similar post of Brown on its own Facebook page, Fox 5 Atlanta reported. The hospital's post noted that Brown began her career at Aflac Cancer & Blood Disorders Center during Childhood Cancer Awareness Month.
"I'm so overwhelmed with this amazing life that God has chosen to give me," Brown posted on her own page. "Never in a million years did I think that at age 24 I would have achieved my biggest and wildest dream – to work at the hospital I was treated at as a child/teenager. It's amazing and crazy and awesome and I'm SO excited to work for such an inspirational organization!!"
Brown's post received 160 reactions from friends and relatives cheering her on, while the hospital's Sept. 24 mention received more than 5,800 and 280 shares.