Ohio boy gets final wish to walk mom down aisle days before cancer death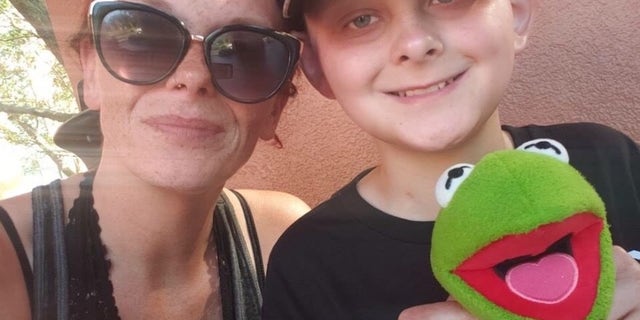 The 12-year-old boy who captured hearts across the nation with an early Christmas celebration had another meaningful wish come true last week when he helped walk his mom down the aisle at her wedding, just days before his tragic death.
Keith Burkett, who has been battling cancer for six years and had been receiving home hospice care, reportedly asked his mom if he could help her before he died.
"He said, 'Well Momma, I would like to walk you down the aisle before I die,' and then I was like you know, we're making it happen," Taylore Woodard, Keith's mom, told Fox 8.
Woodard described the wedding, which took place in their Stow, Ohio, home in a Nov. 9 post on the "Korageous Keith" Facebook page, calling it "the most bittersweet heartbreaking emotional day" of her life.
"But my baby boy got to walk me down the aisle and we got to honor his final wish," she wrote.
Video posted on the group's Facebook page shows Keith being wheeled down the aisle in his wheelchair ahead of his mother, and then placed next to her throughout the ceremony.
CHILDHOOD CANCER SURVIVOR TO BECOME PEDIATRIC NURSE
A post on Nov. 12 informed his followers that Keith had died.
"Today at 12:57pm Keith earned his angel wings and it's now in heaven in peace to be with god," Woodard wrote. "Mommy misses you so much already baby boy! You will always be with mommy! I don't know how mommy is going to live without you! A piece of me will forever be gone. I promise you baby I'll do my best! We love you so much baby!! RIP MY KEIFY!"
Keith first showed symptoms of illness when he was 5, and landed in the hospital on Christmas Eve 2010. He was diagnosed with undifferentiated soft tissue sarcoma in March 2012. Despite several rounds of aggressive treatment, in May the cancer was found to have spread to his skull, left shoulder, lower part of his spine, pelvis and liver.
28-YEAR-OLD WOMAN HAS BEATEN CANCER 4 TIMES
The family had been focused on making as many memories as they could with Keith, who was initially given two months to live. In recent Facebook posts, Woodard has described the heartbreak of watching her son slowly die.
"I hope Keith showed each and every single one of you that life is short and you should NEVER take that for granted," Woodard wrote, in part, on Nov. 10. "I hope Keith showed each and [every one] of you that love always conquers evil. I hope Keith showed each and [every one] of you that despite any obstacle you may face that you should NEVER GIVE UP!!"