Canadian woman gives birth to rare identical quadruplets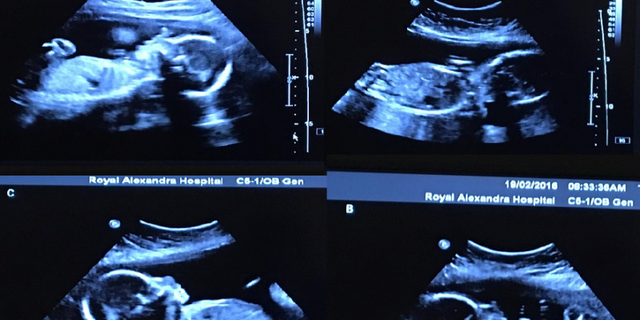 A Canadian woman has given birth to four girls naturally— an estimated 1 in 15 million chance, CBC.ca reported.
Bethani and Tim Webb, of Alberta, Canada, welcomed their healthy newborns into the world Friday after Bethani underwent a caesarean section at Edmonton's Royal Alexandra Hospital. The babies weighed between 3 pounds and 4 pounds, 1 ounce.
Bethani, 22, told CBC.ca that she was "overwhelmed" but happy her newborns were doing well.
Tim described the birth as surreal.
"My heart was just pounding," the 23-year-old dad told CBC.ca. "I felt as if it was a magic show. It was one baby, two babies, three babies and then four babies."
The quadruplets are the couple's first children.
The Webbs said telling their daughters apart for now is easy, as the NICU team has them lined up as A, B, C and D. When they get home, they plan to use different nail polish colors to tell them apart. They named the girls Emily, Grace, McKayla and Abigail.
They plan to move in with Tim's mom, where Tim will live with six girls.
"It's a good thing we'll have two washrooms, that's for sure," Tim told the news website. "And I'll have to get used to not having a washroom, (living) with five other girls. It'll be OK. I think we'll do OK."
The Webbs' friend has started a GoFundMe page to help the couple cover expenses for their newborns.