Can tai chi help relieve knee joint pain?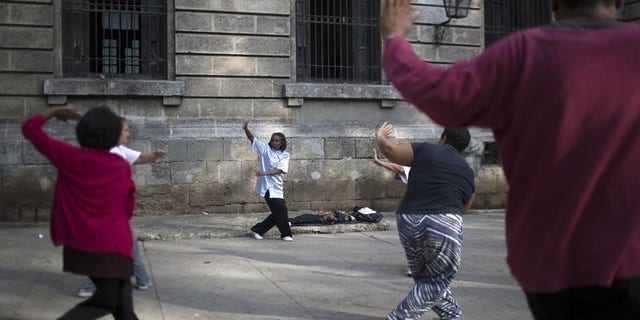 NEWYou can now listen to Fox News articles!
Tai chi may work as well as traditional physical therapy for easing pain in people with knee osteoarthritis, a small study suggests.
Knee osteoarthritis, a leading cause of pain and disability in older adults, occurs when flexible tissue at the ends of bones wears down. While it can't be cured, physical therapy or anti-inflammatory medications are often prescribed to relieve pain and improve mobility.
To see if tai chi - a Chinese meditation practice that combines deep breathing and slow, fluid movements - might be a good alternative to physical therapy, researchers randomly assigned about 200 people with knee osteoarthritis to try one of these options for three months.
Both groups experienced similar reductions in pain at the end of the three months, and after a year, the study found. People in the tai chi group, however, reported greater improvements in wellbeing and mental health than the participants assigned to physical therapy.
The findings suggest that the growing number of U.S. patients practicing tai chi to address musculoskeletal and mental health issues are on to something, said lead study author Dr. Chenchen Wang, director of the Center for Complimentary and Integrative Medicine at Tufts Medical Center in Boston.
"Tai chi is a multicomponent traditional Chinese mind-body practice that may systematically promote health ... by integrating physical, psychosocial, emotional, spiritual and behavioral elements," Wang said by email.
In the study, Wang and colleagues assigned about half of the participants to attend hour-long tai chi classes twice a week for 12 weeks. The others got six weeks of 30-minute physical therapy sessions twice a week and were then told to continue with exercises at home at least four times a week for another six weeks.
Participants were 60 years old on average. They were typically overweight or obese and had been suffering from knee osteoarthritis for around eight years.
While neither group had perfect attendance, 79 percent of the people in tai chi and 78 percent of patients in physical therapy went to at least half of the scheduled sessions, researchers report in the Annals of Internal Medicine.
Because patients knew what treatment they received, it's possible that preconceived notions about the potential benefits of tai chi or physical therapy may have influenced the changes in symptoms that participants reported, the authors note.
The study was also done at a single academic medical center, making it hard to say whether the results would be similar in other settings.
Even so, the findings suggest that tai chi may offer some relief to patients without the potential cost of attending physical therapy or side effects of medications, said Romy Lauche of the Australian Research Center in Complimentary and Integrative Medicine at the University of Technology Sydney.
"Finding effective and safe interventions is a top priority," Lauche, who wasn't involved in the study, said by email.
"Any kind of exercise including tai chi may benefit patients by improving functional disability, and they also impact coping skills," Lauche added.
The controlled movements that are a hallmark of tai chi can be good for joints because they allow fluid in the joints to move in and out of cartilage, improving flexibility, noted Jean-Michel Brismee, a researcher in physical therapy and rehabilitation at the Texas Tech University Health Sciences Center in Lubbock.
"Both tai chi and physical therapy should have the goal to educate patients in doing the healing movements at home daily," Brismee, who wasn't involved in the study, said by email.