California killings renew call for police mental health training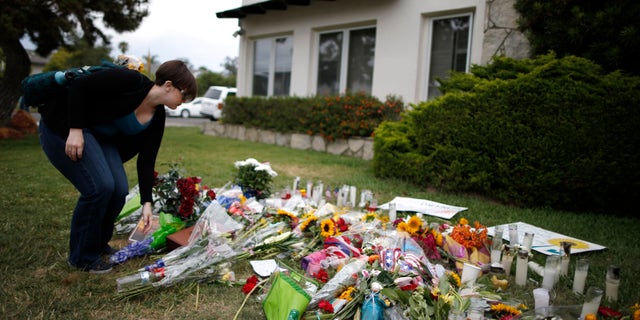 California lawmakers urged swift action on Wednesday to better train law enforcement officials to recognize and deal with mental illness after last week's bloody rampage in an idyllic college town near Santa Barbara.
The killing spree by the son of a Hollywood film director has raised questions about whether police have adequate training to spot warning signs of violence after it emerged that deputies sent to the young man's home weeks prior to the rampage found him to be polite and left without taking further action.
California Democrats hoping to improve the ability of police to spot warning signs renewed a call on Wednesday to spend $12 million on better training for police on such issues as part of a broader measure seeking increased funding for mental health services in California's criminal justice system.
"There were so many potential moments where this behavior could have and perhaps should have been identified," said state senator Hannah-Beth Jackson, a Santa Barbara Democrat, who is pushing for the money to be included in the 2014-2015 budget.
The move by legislators came as students at the University of California at Santa Barbara returned to class for the first time since six students and the killer died in a stabbing and shooting rampage in the seaside community of Isla Vista.
The Santa Barbara County Sheriff's department said deputies visited Elliot Rodger at his apartment weeks before the shooting at the request of his mother, who reported being disturbed by videos he had posted online, but police left after he assured them he meant no harm.
Better training might have helped the deputies recognize warning signs at Rodger's apartment, Jackson said.
The killings have also renewed calls for tighter firearms restrictions in the most populous U.S. state, where polls show that most residents believe government is not doing enough to regulate access to guns.
Another measure, to be introduced this week in the state assembly, would allow friends, neighbors and family members to report to a judge if they fear a person might commit a violent act. The judge could then issue an injunction barring that person from owning guns.
Had such a measure been in place when Rodger's mother called police in April, they might have checked to see whether he had purchased firearms or searched his apartment, said Democratic assembly woman Nancy Skinner, one of the measure's sponsors.
"You can only imagine her anguish when she tried to make an intervention in April," she said.
But with the end of the legislative session looming, lawmakers were clear they were not planning to introduce sweeping new gun laws. Lawmakers passed several gun control measures last year after a 2012 massacre at a Connecticut elementary school, but several were vetoed by Democratic Governor Jerry Brown.
Brown said the strictest one, which would have classified any rifle with a removable magazine as an assault weapon, was an "infringement on gun owners' rights." A spokesman for the governor said he has not since changed his views.