California boy, 1, bitten by rattlesnake at daycare, dad claims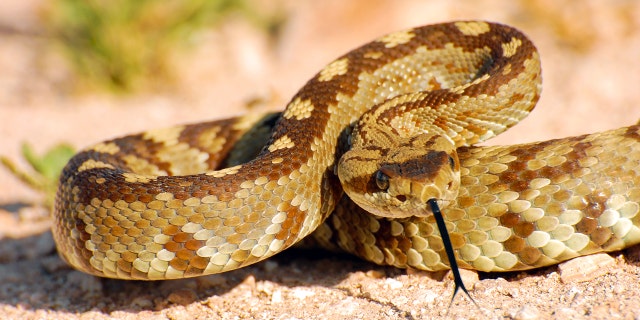 A 15-month old boy is home and recovering after a rattlesnake allegedly managed to sneak into his San Diego daycare and bite him on the hand. The boy, identified as Wayne by his parents, was taken to Rady Children's Hospital-San Diego for immediate treatment, NBC 7 reported.
Wayne had been playing on Wednesday at the daycare, operated by Naval Base San Diego, when he allegedly reached for what he thought was a toy but was actually the serpent.
VIRGINIA WOMAN SEVERELY BURNED IN VAPE DEVICE EXPLOSION: REPORT
The boy's father, who was present at the time of the alleged bite and was only identified by Javier in the report, said the effects of the venom in his son were immediate — his hand swelled to four times its normal size.
"He was slumped, he [couldn't] keep his eyes open," Javier told NBC 7. "He was just lying there. I was awestruck for a very few seconds, I thought my son was gone."
The toddler was given anti-venom, and Javier said the only lasting symptom appears to be fear of moving objects.
TURMERIC BEHIND WOMAN'S LIVER PROBLEMS?
"He freaked out when he saw a toy moving quickly around him," Javier told the news outlet. "He thought it was a snake."
According to the CDC, up to 8,000 people are bitten by venomous snakes each year, with about five cases resulting in fatalities. Patients are advised to seek immediate medical attention while attempting to remain still to slow the spread of venom.