British woman detained in Egypt for bringing painkillers made 'honest mistake,' brother says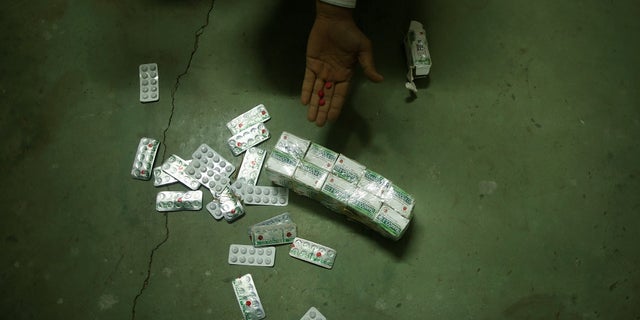 A British woman detained in Egypt for bringing painkillers into the country made "an innocent, honest mistake," her brother said.
Laura Plummer, 33, of Hull was detained on Oct. 9 at Egypt's Hurghada International Airport on "suspicion of drug trafficking," the BBC reported. Egyptian officials found 290 tramadol tablets and naproxen in her possession. Plummer said she was bringing the medication to her Egyptian husband who suffered from back pain. The woman reportedly visits her husband two to four times each year.
It's illegal to bring prescription drugs to Egypt as the medication must be prescribed by health professionals, the BBC reported.
The Briton could face "up to 25 years in jail, or even the death penalty," The Guardian reported.
TERMINALLY ILL BOY WITH WISH FOR CHRISTMAS CARDS RECEIVES 14,000 IN ONE DAY
James Plummer, the woman's brother, told the BBC his sister had no idea what drugs she was bringing to her husband, who she's been married to for 18 months. It was not immediately clear if Plummer's marriage to the Egyptian was official.
"Laura didn't even check what they were, she didn't even know there was tramadol in the bag. There was also naproxen as well," Plummer told the BBC.
James said his sister obtained the drugs from a friend.
Karl Turner, Plummer's MP (Member of Parliament) called Plummer "very, very naïve."
"It is difficult to get certain things in Egypt apparently so she'd taken talcum powder, shaving gel and razorblades and all sorts of things," Turner told the BBC. "Clearly, [she was] very, very naïve."
"The family describe Laura to me as somebody who is very naïve," Turner said. "Her father said to me 'look, the truth is she wouldn't know Tramadol from a Panadol. She wouldn't have a clue that she was doing something unlawful.'"
MINNESOTA COUNTY SCRAMBLES TO CONTROL DEADLY TUBERCULOSIS OUTBREAK
Tramadol was reportedly the "most abused drug in Egypt," Ghada Wali, the country's Minister of Social Solidarity, told the BBC.
Plummer was reportedly detained in a jail cell she was occupying with 20 to 30 other women.
The Guardian reported the Briton was losing her hair due to stress in the jail cell.
"It's awful for Laura ... she's not a tough person at all. She's only small," James Plummer told the Press Association.
Plummer is due back in Egyptian court on Thursday for a third hearing.