Britain's failure to tackle female genital mutilation a 'national disgrace': lawmakers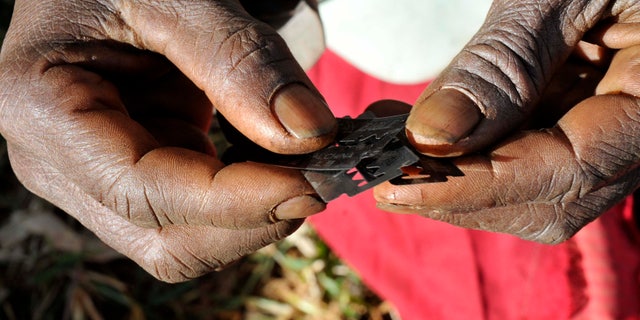 NEWYou can now listen to Fox News articles!
LONDON (Thomson Reuters Foundation) – The failure of British authorities to bring one successful prosecution for female genital mutilation in more than 30 years is a "national scandal", lawmakers said on Thursday calling for greater action against professionals not reporting the practice.
Female genital mutilation (FGM) has been a criminal offence in Britain since 1985 and new legislation in 2003 introduced a jail term of up to 14 years for British citizens carrying out FGM abroad, even in countries where it is legal.
Last year the government made it compulsory for teachers, social workers, doctors, nurses and midwives to report FGM with campaigners fearing many cases are going unnoticed because they happen at a young age and abroad.
British parliamentarians said in a report that they were "alarmed" by the lack of prosecutions and to learn that some clinicians were ignoring the legal duty to report cases to the police with some seeming to regard the duty as "optional".
"We are dismayed that there have been no convictions for FGM-related offences," said Tim Loughton, interim chair of the Home Affairs Committee responsible for the report.
FGM involves the total or partial removal of the clitoris and external genitalia. In extreme cases the vaginal opening is sewn closed. It can cause serious physical and psychological problems and complications in childbirth.
In the first case of its kind in Britain, a doctor accused of stitching up a new mother was acquitted by a UK court last year after he argued his actions were in the best interest of a patient with severe bleeding.
Official data released in July showed that a total of 5,700 new FGM cases in England were recorded in 2015-16, but only a small number had been cut in Britain.
STRONGER SANCTIONS
The committee recommended stronger sanctions for failing to meet the mandatory reporting responsibility, noting that prosecutions would remain unlikely without them, since daughters rarely report their parents to the police themselves.
Worldwide more than 130 million girls and women have undergone FGM, according to U.N. data, with the practice prevalent across Africa, parts of the Middle East and Asia.
The practice is much less common in the UK, although exact data is lacking. A study estimated in 2011 that about 137,000 women and girls in England and Wales had been subjected to FGM.
"[These numbers] are still just the tip of the iceberg," Mary Wandia of Equality Now, a women's rights charity, told the Thomson Reuters Foundation.
The committee advised the government to look at the example set by France, where prosecutions for FGM have been more successful, saying there was a "strong case" for a system of routine medical examinations akin to the French model.
The government's aim is to eliminate FGM "within a generation" with the previous government of David Cameron introducing powers to prosecute parents who fail to prevent their daughters being cut.
The committee welcomed these measures, but criticized the government for providing insufficient resources to charities and campaigning groups devoted to tackling the issue.
"The committee's review highlights the immense amount of work that still needs to be done in preventing FGM in our own communities up and down the country," the National Society for the Prevention of Cruelty to Children (NSPCC) said in an email.