Boy's rare condition turning skin into 'stone,' causing him to become 'entombed within himself'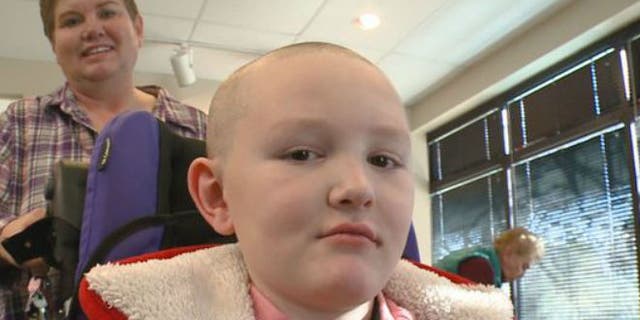 The parents of a 12-year-old Colorado boy with stiff skin syndrome, a rare condition causing him to "become entombed within himself," are fighting to find a cure.
Jaiden Rogers, of Alamosa, was first diagnosed in 2013 after his father Tim spotted a hard lump on his right thigh. The rare and rapidly progressive disorder of the connective tissue hardens the skin and makes the muscles tough to move.
As of 2015, only 42 people in the world had been diagnosed with this syndrome, and there are currently "no specific therapies are available to reverse the symptoms," according to the U.S. Department of Health and Human Services.
PARENTS WHOSE NEWBORN BABIES DIED FROM HERPES WARN ABOUT DEADLY VIRUS
"We were so confused at first," Tim told People magazine of his son's diagnosis. "We couldn't believe there were no answers because it's so rare. We couldn't find anyone else who had it."
The disease has now spread from the boy's thighs to his hips, stomach and back, and is moving toward his chest, causing tremendous pain.
Stiff skin syndrome isn't fatal in and of itself, but the hardened skin could eventually make it so Jaiden can no longer breathe, People magazine explained. "His skin is basically like stone," Jaiden's mom, Natalie, said. "It's like tapping on a countertop."
He is currently being treated with chemotherapy and strong pain medication to hopefully help the symptoms while Jaiden's doctors search for a cure.
But the medical bills are expensive, and Jaiden's parents need help. They have to make monthly trips to Children's Hospital Colorado in Denver, which is four hours away, for Jaiden to meet with his doctors.
Additionally, experimental procedures that might help Jaiden have high price tags, like a new stem cell treatment in Europe that focuses on rare skin diseases but costs over one million dollars, according to People.
"Money is in the way. We just want our boy to live," Natalie said. "We've taken out three mortgages on our home and have spent Tim's retirement. There is nothing else we can do."
FOLLOW US ON FACEBOOK FOR MORE FOX LIFESTYLE NEWS
Tim and Natalie have started a GoFundMe page with a $1.5 million goal to help pay for Jaiden's treatments and cover the cost of medical bills.
"We just keep plugging away and trying to find something. We do what we have to do," Tim said.