Boy with rare 'Stone Man' disorder won't let it stop baseball dreams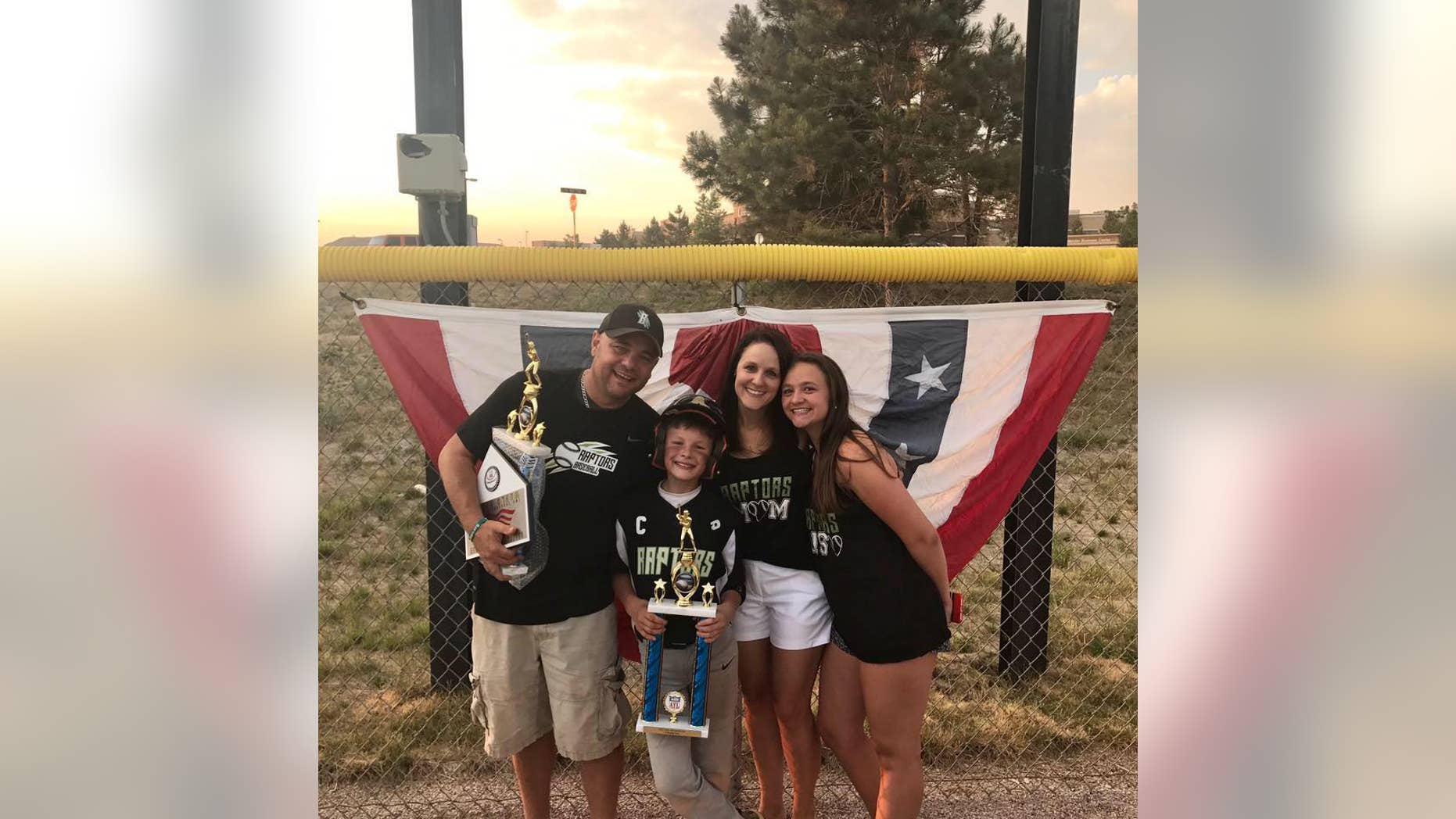 The parents of an 11-year-old baseball player with a rare genetic disorder want their son to continue enjoying the sport that he loves, but know that doing so puts him at risk for injury which could cause his illness to progress.
"We try to keep him from getting seriously injured," Stephanie Burgess, Caleb's mom, told The Gazette. "We weigh, 'How much do you let him do versus do we shelter him?' We want him to be able to play baseball while he can."
GIRL SCOUT WHO SAVED GRANDMOTHER FROM CHOKING ON A POTATO HONORED WITH AWARD
The Burgess family, of Castle Rock, Colorado, was rocked by Caleb's Fibrodysplasia Ossificans Progressiva (FOP) diagnosis last year.
The disorder, which is also referred to as Stone Man Syndrome, has only been diagnosed several hundred times and sees muscle tissue and connective tissue such as tendons and ligaments gradually replaced by bone, which constrains movement. As the disorder progresses, patients may have difficulty eating and breathing due to extra bone formation, with flare-ups potentially occurring due to viral illnesses, according to the U.S. National Library of Medicine. Trauma to muscle, such as a fall or injury, may trigger rapid ossification of the area.
Stephanie said the family, which includes dad, Scott, and sister, Alli, began researching a possible diagnosis for Caleb at around age 7, when he began losing mobility in his neck, Fox 31 Denver reported.
"We started researching… came up with FOP and, even though it was super rare, all of his symptoms and signs seemed to point to that," she told the news outlet.
Three years later, Caleb was diagnosed.
3-TIME CANCER SURVIVOR BREAKS RECORD FOR MARATHONS RUN IN MOST COUNTRIES
"When he started to grow more bones in his knees after baseball one season I just kept pushing until they did more X-rays," Stephanie told Fox 31 Denver.
While there is no known cure for the disorder, Caleb's treatment for a flare-up includes five days of steroids.
"It's really tough but my friends always have my back," he told Fox 31 Denver.
On Saturday, a Bombers for Bones Home Run Derby & Skills Competition fundraiser was held for Caleb and three other Colorado children diagnosed with FOP. Stephanie said that while the other children are more progressed than Caleb, she's not sure if he understands that he may face the same fate.
"He knows pretty much everything there is to know about FOP," Stephanie told The Gazette. "We have FOP fact sheets that tell the worse possible case. Those he does not like. Other than that, he is pretty positive and happy."