Boy born without arms and legs thriving in Georgia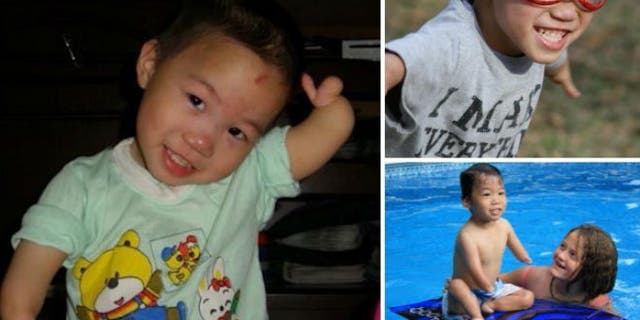 Being born without ten fingers and ten toes hasn't stopped one Georgia boy from living a full life with his adopted family, MyFoxAtlanta.com reported.
Mei Deavers, 7, was adopted as an infant from an orphanage in China by Pastor Tracey and Shannon Deavers. The couple had four biological children, but were thinking about adopting a special needs child when Tracey met Mei while visiting rural China.
"I just kept being drawn back to Mei and at the time he was about one and he let us, he'd sit in our lap and bounce and he'd get up and want to look out the window," Tracey told My Fox Atlanta.
The next day, Tracey went back to the orphanage and spent time with Mei, holding him for two hours.
"And I lay him back in his crib and immediately he starts arching his back and crying, trying to reach out to me with his little half arms, and it just broke my heart. It tore my heart out," Tracey told My Fox Atlanta. "I just remember praying in that moment, 'God, let me come back and get this little boy.'"
He emailed his wife and, though hesitant about taking care of a child missing his arms, the couple brought him into their home in LaGrange, Georgia.
When Mei arrived in the U.S., surgeons at Children's Healthcare in Atlanta removed his badly deformed lower legs and fitted him for prosthetics. He'll continue to be fitted for new prosthetics as he grows.
Now that he's become a baseball fan, Children's Healthcare specialists are working to build him a special baseball hand, similar to a lacrosse stick, with netting to let him scoop up the ball and throw it.
His parents, who also have two other adopted children, said they're eager to see their recent Kindergarten graduate shine.
"And people always say 'he's so lucky he is so lucky to have you all' and I think we are the lucky ones to have him because he's changed us completely," Shannon told My Fox Atlanta.