Boy, 6, needs life-saving bone marrow transplant after undergoing brain surgery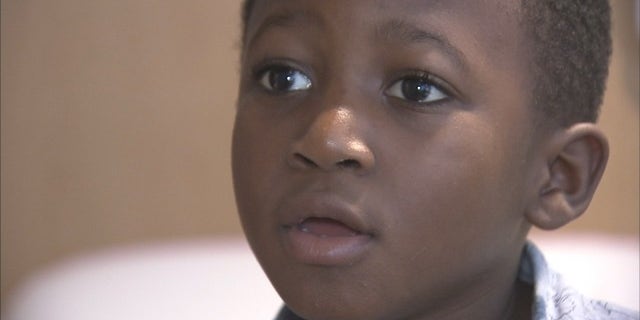 A 6-year-old boy who underwent brain surgery last year is in need of a life-saving bone marrow transplant as he battles sickle cell disease. Ayden Palmer, who faces hours-long blood transfusions at Children's Health Dallas until he receives the transplant, also suffered a stroke at age 3 that's left him paralyzed on the left side of his body, Fox 4 News reported.
"He knows nothing but pain, and he's immune to pain. That's what I say," Tut Palmer, the boy's mother, told the news outlet.
FDA ALERTS MORE DOCTORS OF RARE CANCER WITH BREAST IMPLANTS
Sickle cell disease is a blood disorder that affects how red blood cells deliver oxygen through the body. The disease can cause red blood cells to distort into an "S" or crescent shape, causing blockages and difficulty in moving. Patients typically begin exhibiting symptoms such as repeated infections, episodes of pain, anemia, fatigue, delayed growth and others during childhood. According to the U.S. National Library of Medicine (NIH), when the red blood cells have difficulty traveling to organs and tissues, damage can occur, causing serious complications for patients.
The disease is most common in people with ancestors from Africa, Mediterranean countries, the Arabian Peninsula, India, South America, Central America and parts of the Caribbean. According to the NIH, it's the most common inherited blood disorder in the U.S. and affects up to 80,000 Americans, occurring in 1 in 500 African-Americans and 1 in 1,000 to 1,400 Hispanic Americans.
Palmer and Ayden's doctors hope that by sharing his story, more minority donors will sign up for the registry to help other patients facing critical health issues. According to Be The Match, black or African-American patients only have a 23 percent likelihood of finding a compatible donor, compared to 77 percent for white patients.
CLICK HERE TO GET THE FOX NEWS APP
Ayden's doctor, Tiffany Simms-Waldrip, told Fox 4 News that waiting for the donor will be crucial in the boy's treatment to avoid further complications. But the more time passes, the more risk for potential issues.
"It's daunting. It's a waiting game," the boy's mother told Fox 4 News. "I always tell my husband, it's impossible finding a match right now."