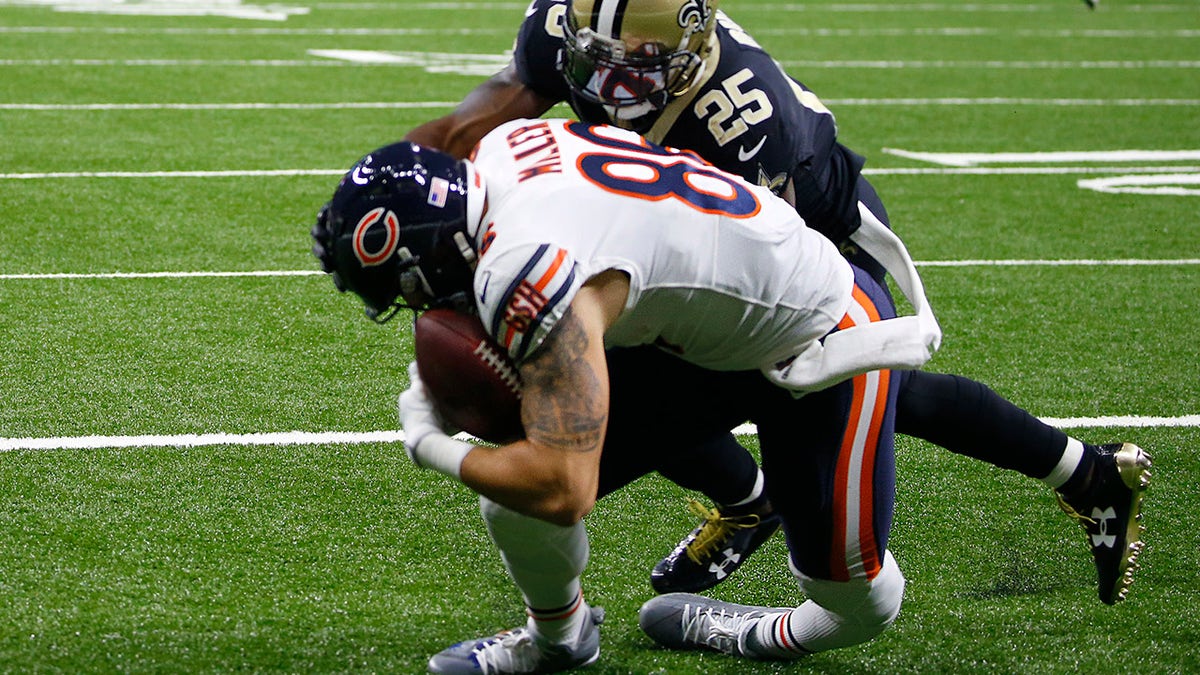 Chicago Bears tight end Zach Miller underwent emergency surgery on Sunday night after suffering a brutal injury to his knee that put him in danger of losing his leg. Initial reports from the field indicated that Miller suffered a dislocated left knee during a third quarter touchdown attempt, with ESPN later citing sources that the 33-year-old required vascular surgery to repair a damaged artery as a result of the injury.
According to the ESPN report, team sources said the injury was "more significant" than a regular dislocation, and that the surgery required grafting tissue from Miller's right leg to repair the damaged artery in his left leg.
On Monday, the Bears released a statement confirming Miller's sugery, and described the procedure as "successful."
"During our game at the New Orleans Saints yesterday, TE Zach Miller sustained a serious injury to his left knee and immediate evaluation from our medical team on site rushed him to nearby University Medical Center New Orleans (UMC) for urgen vascular sugery to repair a torn popliteal artery," the statement said.
"Successful surgery was performed immediately on Sunday by the UMC vascular sugeons to stabilize his injury. Zach remains at UMC, along with Bears medical personnel, where he will stay under further evaluation. We are thinking of Zach and his family and support from our entire organization goes out to them."
PARENTS SHARE HEARTBREAKING PHOTOS OF BABY SET TO LOSE LIMBS TO MENINGITIS
At the time of the injury, Miller was attempting to haul in a 25-yard touchdown pass from rookie quarterback Mitchell Trubisky, but his left leg bent awkwardly as he landed. The play was originally called a touchdown, but as Miller was carted off the field officials overturned the call and said that the ground caused the ball to loosen in his grasp as his upper body crashed to the turf.
TEEN'S SORE THROAT SPIRALS INTO LIFE-THREATENING INFECTION
"I didn't watch it after I saw it the first time. To go from the elation of, 'What a play, what a throw!' in that situation of the game to overturn and Zach obviously being injured … it's really unfortunate," Kyle Long, a Bears offensive lineman, told The Chicago Tribune. "We lost a really good guy today."
GEORGIA BOY BLOCKED FROM GETTING FATHER'S KIDNEY IS RUSHED TO HOSPITAL
Following Chicago's 20-12 loss, Bears head coach John Fox said the team's thoughts and prayers were with Miller.